EMD GP30 diesel-electric locomotive - BACHMANN PLUS DCC/SOUND
Brief history.
The GE Electro-Motive Division (EMD) GP30 is a four-axle road-switcher built a La Grange, Illinois,
between July 1961 and November 1963. A total of
948 units were built for many railroads in the
United States
and
Canada
, including 40 cabless
"
B" units
for the
Union Pacific Railroad.
The GP30 is easily recognized by its high profile and stepped cab roof, unique features among US-built diesel locomotives.

By the late 1950s, the race for more diesel locomotive power was at its peak and with the introduction of the 2500hp General Electric U25B in 1960, General Motors-EMD was taken by surprise. It took over 2 years of development and research to catch up and the result was the B-B GP30.
The production of this original locomotive (the first of the new second generation of diesel locomotive produced by EMD) was done in two variants or phases, with slight differences in appearance and improvements in the equipment. A GP30 Phase-I includes a shorter cab and a post in the handrails that descend from the fire department side of the rear cab area. A GP30 Phase-II model omits the riser at the bend in the handrail that descends from the side cabin of the fire department and the cabin is 10 inches longer than the original design.

Unlike the competitor U25B which had 2,500hp, the GP30 offered 2,250hp delivered by the turbocharged 16-cylinder EMD 567 engine, the same power unit of the GP20 locomotive but upgraded (variant 567-D3).
The new model incorporated 30 distinct improvements to make it more modern and efficient. For this reason, the EMD engineers chose to label it GP30 (at the beginning of development it was called GP22). The model is available with straight air brake or dynamics brake.

Specifications / Technical data
Builder:
Electro Motive Division
Units built:
948 (including 40 GP30B units)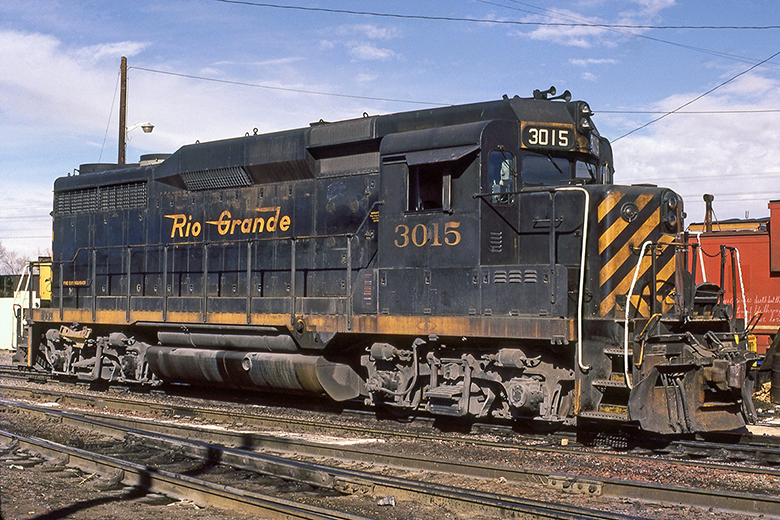 EMD GP30 s/n 28044 (built date 2-1963) Denver & Rio Grande Western #3015 in 1987.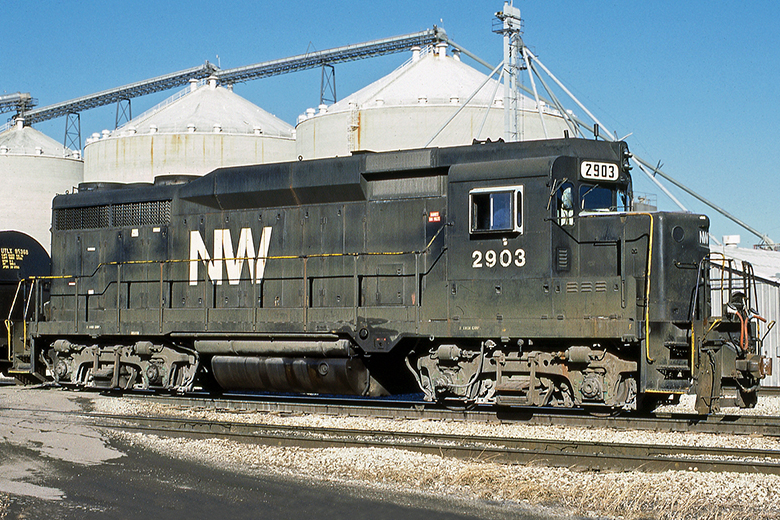 EMD GP30 s/n 27897 (built date 11-1962) Norfolk & Western #2903 in 1989.
As of April 1, 1976, 82 GP30 engines were in service with
Conrail
, sequentially numbered from 2168 to 2249. The locomotives were inherited from the
Penn Central
(formerly
PRR
and
NYC
) and Reading rosters. During its years of service (officially between 1976 and 1991) some of these locomotives were taken out of service, stored but then reactivated and put back to work. A few ex-Conrail GP30s are still in service with
CSX
and
Norfolk Southern
, Class-1 railroads directly descended from
Conrail.
Unit CR #2200 was a GP30 purchased by
Pennsylvania Railroad
in 1963, equipped with dynamic brakes and long-haul fuel tank. The locomotive
served in
Conrail
initially with its original black livery adopted since PRR era and afterwords with
Penn Central
. CR patched black dress remained on the engine
until the early months of 1980,
when it was repainted with the specific CR's blue color.
After Conrail era (out of service by 1991)
it was on duty in Tucson, AZ, with the Kyle Railroad. From 2009 sold to Port of Tucson.
EMD GP30 Conrail #2200 data
Type:
B-B diesel locomotive
Previous owner:
Penn Central/Pennsylvania Railroad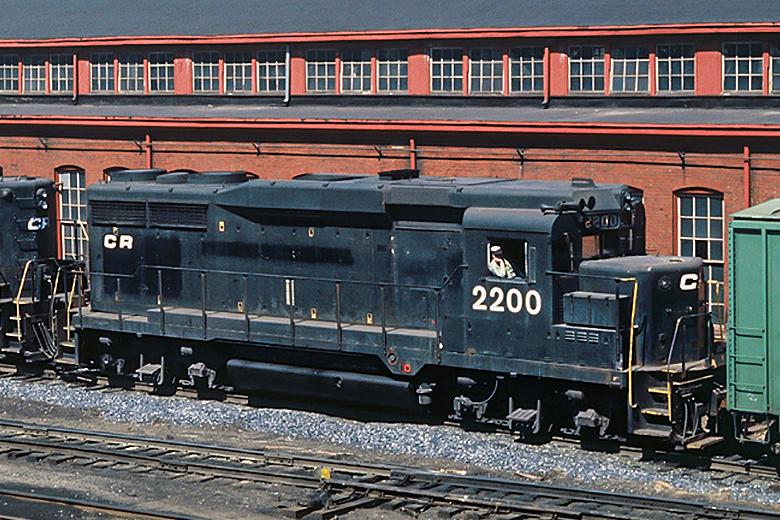 EMD GP30 s/n 28108 (built date 3-1963) Conrail #2200 in 1978.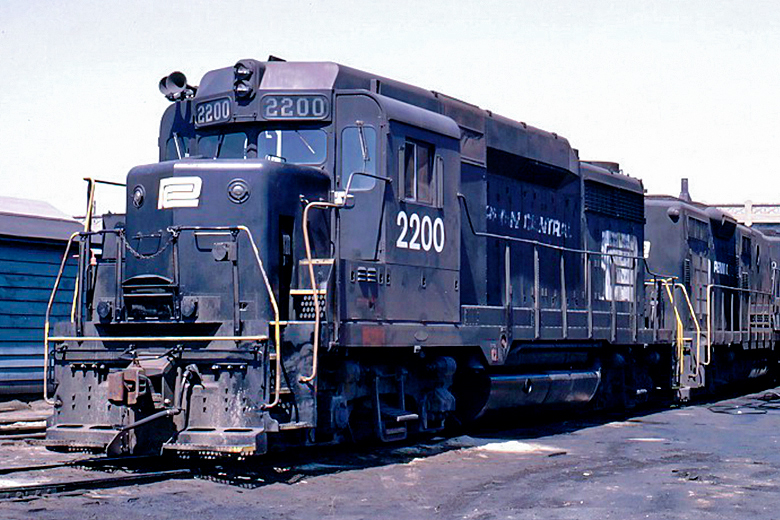 EMD GP30 s/n 28108 (built date 3-1963) Penn Central #2200 in 1972.

Bachmann Plus GP30 PRR-2200 out-of-box.
Bachmann is a popular brand for model train enthusiasts.
The production is extremely diversified and for model trains in HO scale is based on different production lines. The "premium" Spectrum line offers finely detailed and carefully crafted models.

To make our project of GP30 CR-2200 replica,
PRRHO.com
used a Bachmann Plus DCC/Sound model with Pennsylvania Railroad black livery. As in reality, this locomotive later became the Conrail number 2200. The Bachmann item
is discreetly crafted,
but there are a lot of details missing if you compare the model with the real prototype.
A long and hard work has been done to get a fairly realistic look.
It was also necessary to correct some reproduction errors.

Before of the transformation.
In the introduction here above,
we wrote that to realize our project we had to do a great job.
It was necessary to prepare the carbody of the locomotive for the new painting, deleting the original decals and applying the numerous missing details (roof rings, signal-box, sinclair antenna and others). See image here below with all notes.
Other parts added on the front and the rear (MU stand, air-hoses, new real couplers) and over the right front truck (an only one speed detector). Then, w
e also applied new windshield wipers on the front side windows and a new sandbox cap on the nose. The lateral road numbers on the cab
have not been replaced but repainted with white acrylic paint.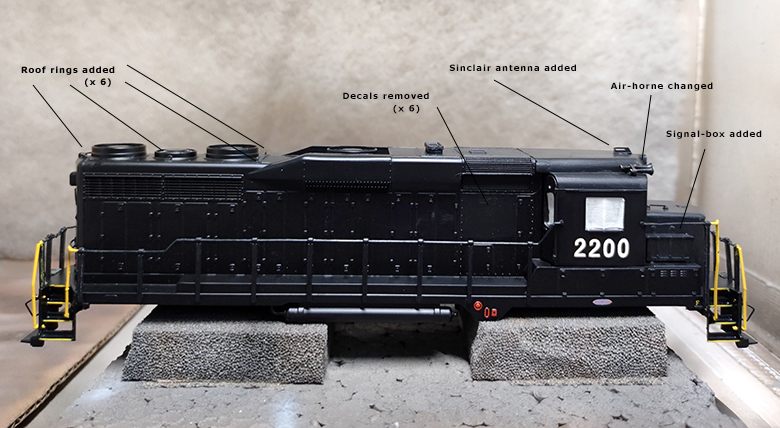 PRRHO.com custom weathered and improved model.
The aim of the whole operation is to place our GP30 CR-2200 in the context of the Conrail Early Years layout, set in 1976-1978 years.
As seen in some photos of the reference era, we have made the weathering.
The repainting, with the use of a fine airbrush, is based on prime dark gray, second coat of fading with dust color and, finally, a final touch with matt grime black localized on some specific areas. Then, with some brushes and various rust colors, dry sponge applicators and powders
we have accentuated some parts of the locomotive.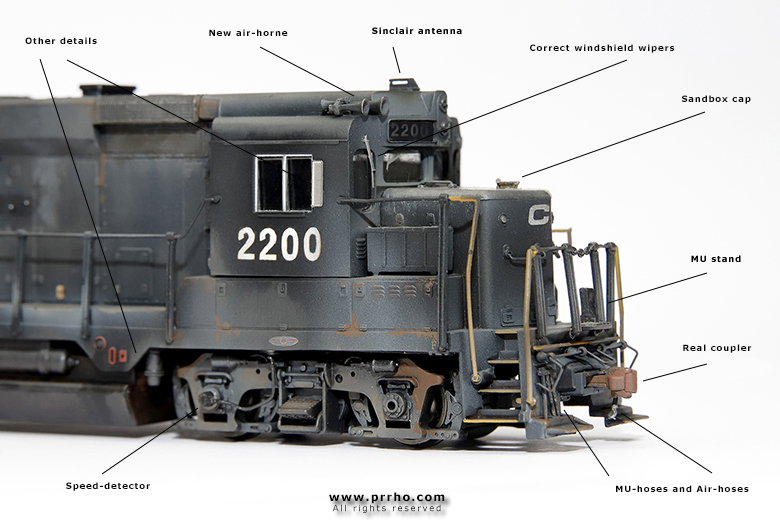 On running ... with sounds.
We tested this locomotive on our track, powered with a Digitraxx 5-amp booster.
Operation is smooth and regular, both at low speeds (for the switching) and at full power (for hauling heavy consist). The model is equipped with a Soundtraxx digital decoder.
It was necessary to adjust some parameters related to the sounds because the level was too low. The front and rear lights, with a correct light color, work perfectly.