EMD SD35 DIESEL LOCOMOTIVE -
ATLAS MASTER LINE GOLD
& SILVER DCC/Sound
Brief history.
The
EMD SD35
is a 6-axle road switcher diesel-electric locomotive built by General Motors Electro-Motive Division between June 1964 and January 1966 and
was one of the builder's first second-generation models.
It's incorrect to say that the SD35 is just a six-axle version of the GP35, EMD's hugely popular locomotive.
The new features of the
SD35
, which date back to the 1965 SD28, were a redesigned body and a new standard cab type, based on the Spartan model, simple and functional.
As previously written, EMD began production of this new locomotive in the early summer of 1964,
for a total of 360 units produced (
the main users were Southern Railway and Norfolk & Western Railroad, with 100 and 80 locomotives respectively)
.
35 units of the SDP35 variant were also built, equipped with a steam boiler and dedicated to passenger service.
About a dozen major railroads purchased the
SD35
and a number of these remain in service today.
The
SD35
was developed following six-axle designs such as SD18, SD28 and SD24 which achieved few sales.
The locomotive used General Motors' proven 16-cylinder 567D3A prime mover, which could produce 2,500 horsepower with GM's D67 traction engines that could achieve an initial tractive effort of 90,000 lbs and 50,000 lbs continuously at 12 mph.

Specifications / Technical data
Builder:
Electro Motive Division
Prime mover:
EMD 567D3A 16 cylinder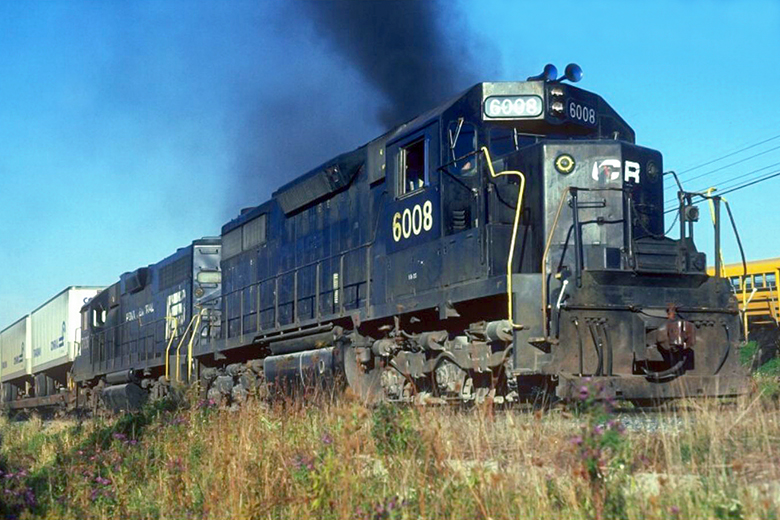 EMD SD35 Conrail #6008 in PC black livery CR patched, at Allentown in 1978.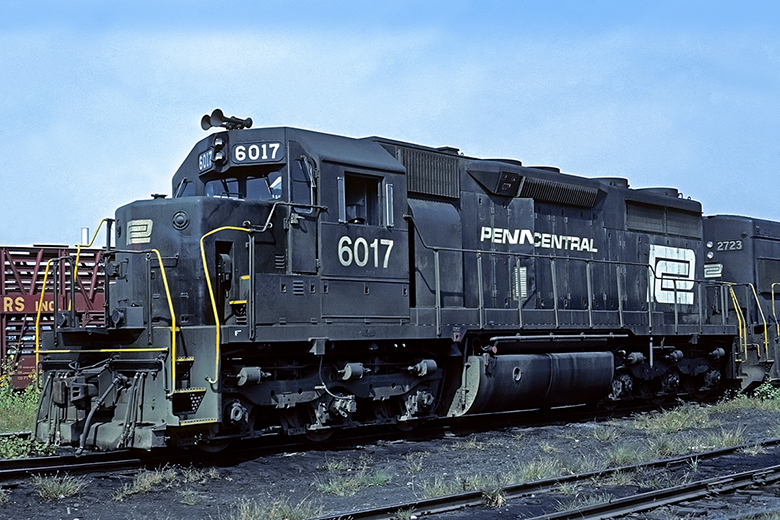 EMD SD35 Conrail #6008 in PC black livery during 1976, September.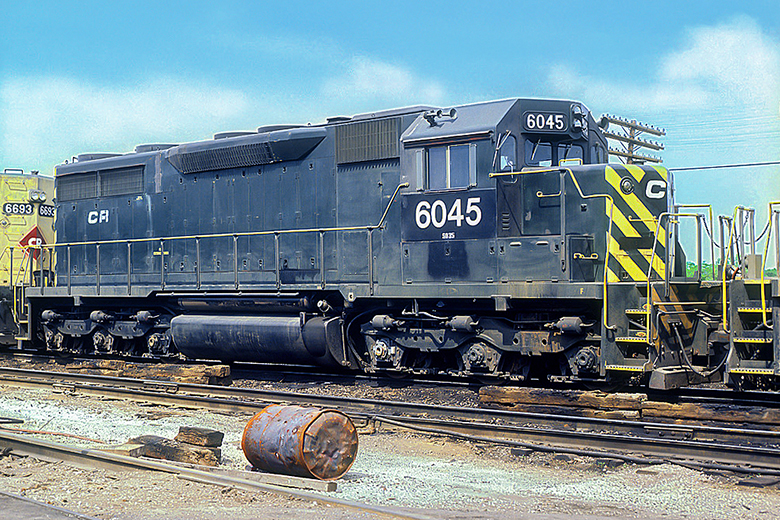 EMD SD35 Conrail #6045 with former CNJ colors, in 1977.
Conrail (ex Penn Central) number #6014.
Conrail
received 52 EMD SD35's to their roster in April, 1976. The
Penn Central
provided 40 units in series 6000-6039 and the
Central Railroad of New Jersey
provided 12 units in series 6040-6051.
The EMD SD35 did not last long with Conrail, because involved in radical consolidation of its fleet of locomotives.
Most of the units were removed from service in 1985 and then scrapped (very few units were sold to shortline railroads).
Unit number #6014 was a
II-b1 phase purchased by PRR in 1965 and then inerithed by Penn Central.
The engine carry its
PC
black livery until mid 1977, when the
CR
patches have been applied. It is not known if it received the blue Conrail.
EMD SD35 Conrail #6014 data
Type:
C-C diesel locomotive
Disposition:
to CSX 4401 from 1999, September
Previous owner:
Penn Central (prior Pennsylvania Railroad)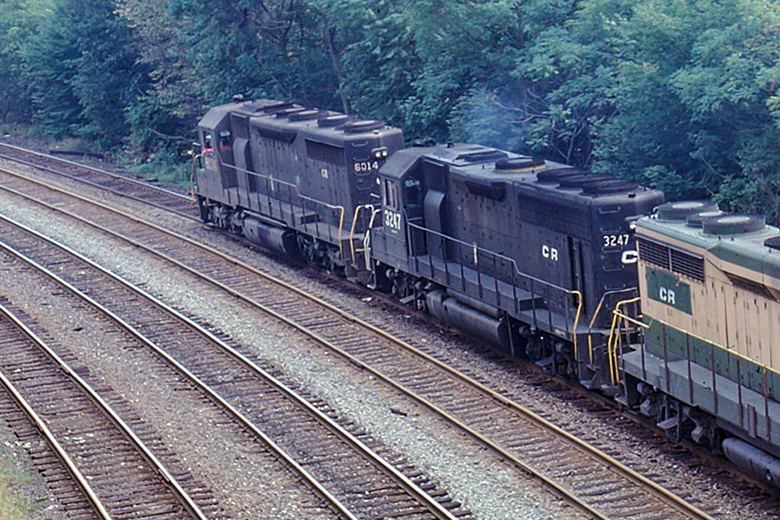 EMD SD35 #6014, in former Penn Central black livery, leads a Conrail consist in 1978.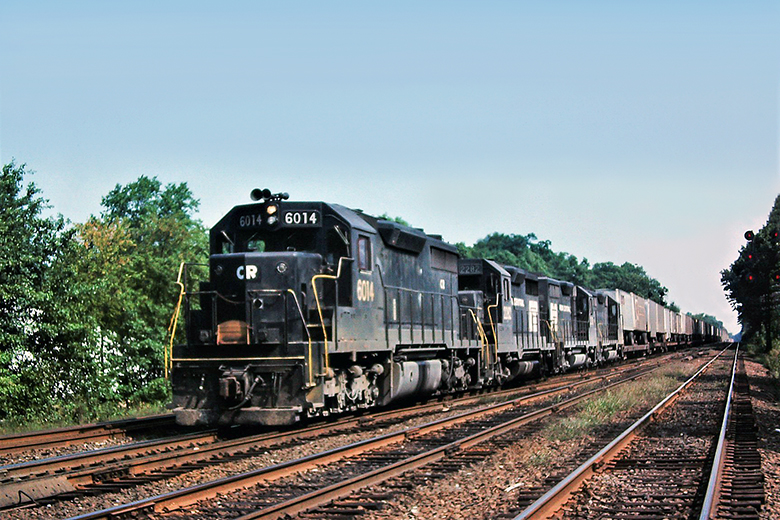 SD35 #6014 leads the TV-98 trailer train near Allentown, in 1977, August.
Conrail number #6051 (former Central New Jersey #2512).
Engine #6051 was part of the dozen purchased brand new by
Jersey Central (CNJ)
between May and June of 1965. All locomotives were inherited by Conrail and patched in early months. SD35 #6051 received its blue Conrail livery on Aprile, 8 1978.
EMD SD35 Conrail #6051 data
Type:
C-C diesel locomotive
Disposition:
scrapped in 1985
Previous owner:
Central New Jersey Railroad

The Atlas Master Line "Gold" series SD35 Penn Central #6014.
The Gold Series of Atlas is the premium line for replicas in HO scale of diesel locomotive, equipped with a
DCC/sound
digital decoder. For an "Early Conrail" setting, this
Penn Central
SD35
replica produced by Atlas is perfect (
Atlas also offers some models with the CR definitive blue color).
At least until 1978 (for some locomotives even in the following years) many units inherited from Conrail still wore the old colors of the previous railroads. Of course, Penn Central (Conrail's first motive power supplier) had a large number of engines on duty with its black liveries, long after the new government company was formed.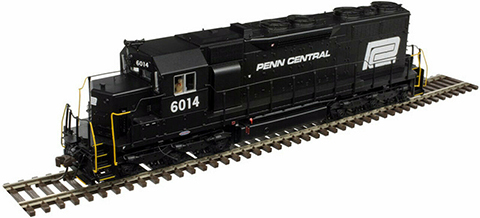 Atlas presents its products in a well-packed rigid box.
The model is sealed in a plastic container and protected by polystyrene packaging.
The model arrived fully intact in all its parts, despite a long delivery trip.
Out of box.
The
SD35
diesel locomotive model passed here in review, is a unit in service with
Penn Central
and identified with serial #6014.
This power will be modified using decals for repatching such as Conrail CR-6014,
perfectly integrated with our new HO scale modular diorama system called Allentown Yard Westside, part of the Conrail Early Years (The Colorful Motive Power) project.

Upon opening the package, the object appears solid, well built and clean.
At first sight,
very good quality.
The first thing to report, a defect that Penn Central, Pennsylvania Railroad and Conrail enthusiasts cannot accept, is the lack of the typical signal box, installed on the right side of the nose that fitted almost all diesel locomotives operated by Conrail.
To add also the Sinclair antenna
(see
image below).
On the market, some brands offer items that can remedy this defect, but changes are needed.
Another solution can be done by itself.
The rest of the body is well reproduced, with all the significant details installed correctly.
The painting and application of the decals and logos were also done excellently.
Looking at the underside of the model, with the spotlights on the trucks, you notice the loss of typical details such as sand pipes and other pipes, quite common in Atlas reproductions. About sand pipes, to be honest, there are ... but aren't pipes (because
are fused together with the terminal part of the trucks, only on the inner side).
There are the MU and Air Hoses, in front and rear and are correct the horns and the windshild whipers. The couplers are not realistic and it is necessary to replace them (PRRHO.com train modelers use the "Whisker" Kadee metal coupler), while, t
he safety chain of the head platforms is well made. Is necessary to replace even the bulb of directionl lights ... too yellow (not real).

All replica features: r
ealistic die-cast underframe, f
ive-pole skewed armature motor with dual flywheels for optimum
performance at all speeds, g
olden-white LEDs, d
irectional lighting, f
actory-equipped with AccuMate® knuckle couplers, d
etailed cab interior with crew, s
eparately-installed scale windshield wipers, metal grab irons and fine
scale handrails, m
arker lights with separate lenses, s
cale fans and grille detail, f
lat dust bin or raised dust bin as appropriate by railroad, s
nowplow (included but not installed).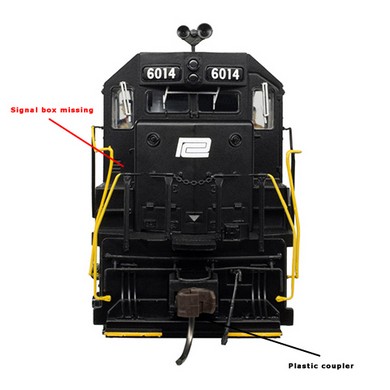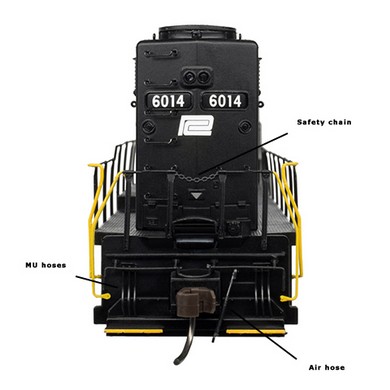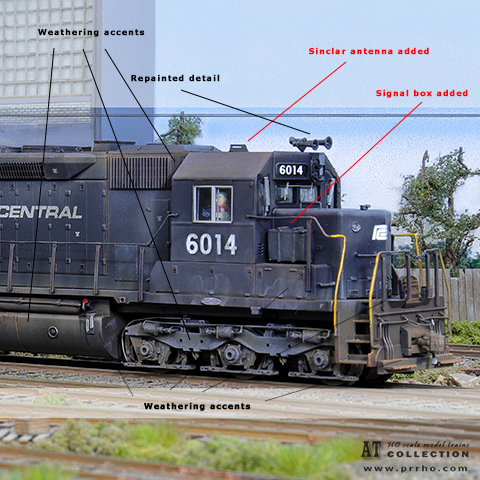 Sound features.
The model is equipped with an ESU Locksound DCC decoder, with the following
characteristics
:
- supports all DCC-programming modes
- flexible mapping of function keys F0 to F28
- a total of six DCC function outputs are available
- over 20 sound effects are available, including engine start-up and shutdown, prime
mover sounds through all eight notches, bell, air horn, air compressor, dynamic
brakes and more
- 16 user-selectable horns, 2 user-selectable bells, and 2 user-selectable
synchronized brake squeals
- manual and Automatic Notching modes with the ability to change modes "on the fly"
are provided for true realism.
On running.
This SD35 replica is equipped with an ESU LokSound digital decoder.
There are many functions available that make the use realistic, but the sound level is not powerful (total absence of low frequencies).
I hope it is possible to replace the speakers, to be done with a re-programming of the equalization.
For us, the acceleration/deceleration speed must also be reprogrammed, especially if the locomotive has to run in multiple consist. Also, the initial delay is too long.

More to report ... nothing.

The Atlas Master Line "Silver" series SD35 Conrail #6051 (based on CNJ #2508).
Used item found on eBay, this SD35 was produced by Atlas for the "Silver" series many years ago, in the green color typical of the
Central New Jersey
railroad company's last years,
the same colors maintained in the first years of service with
Conrail
.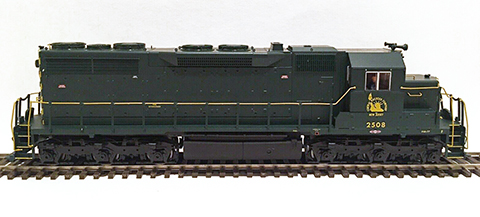 This replica of the SD35 CNJ-2512 was damaged with some parts and details lost.
After found all the necessary documentation and planned each intervention
with the supply of every part we needed
, we began the long work for creating our Cr # 6051,
including the installation of a new Tsunami 2 digital sound decoder.
See here below the images with the result.