Brief history.
The "special-duty"
EMD SD45
is a six-axle road switcher diesel-electric locomotive built by General Motors Diesel/Electro-Motive Division between December 1965 and December 1971. Powered by the new 20-cylinder engine EMD 645-E3 rated at 3.600 Hp, this locomotive resumed the design of the
SD35
, SD38 and SD39 models. Built in 1.260 units, the
SD45
was used mainly in road-switcher role on mainlines to pulls heavy freight trains.
The six-axle
SD45
diesel locomotive
was powerful, but had many maintenance problems. Furthermore, the autonomy was limited (the 20-cylinder engine was thirsty for diesel).
However, the locomotive had a great commercial success and was purchased by many companies and served for many years throughout the United States.
The 20-cylinder prime mover was experiencing teething issues and had a tendency to break crankshafts, naturally resulting in engine failures out on the railroads. EMD soon fixed the problem by replacing the main engine block with a new design. Meanwhile, many railroads decided to withdraw their
SD45
from service, replaced by the new, more reliable and less fuel efficient SD40-2 model.
Despite its problems, many units remained in service, mainly appreciated for their great power effort (over 92.000 lbs on maximun power).
The SD40-2 it was an evolution of the
SD45
, from which other variants were derived, such as the
SDP45
(
built for use in passenger service featuring a steam generator and water supply)
and
SD45-T2
, equipped with the tunnel-motor version. Around the same time,
in the spring of 1972, EMD released the upgraded SD45-2 model, which was virtually identical to its predecessor save for updated electronics allowing for the locomotive to be more efficient.

Specifications / Technical data
Builder:
Electro Motive Division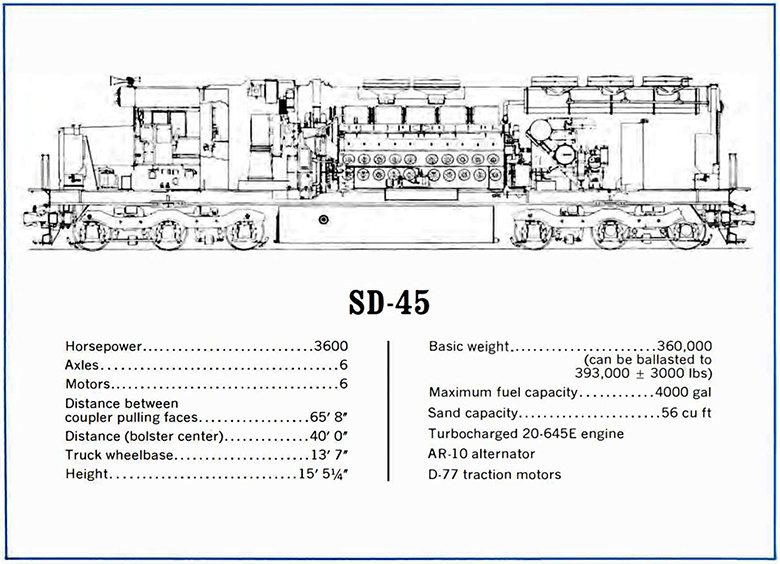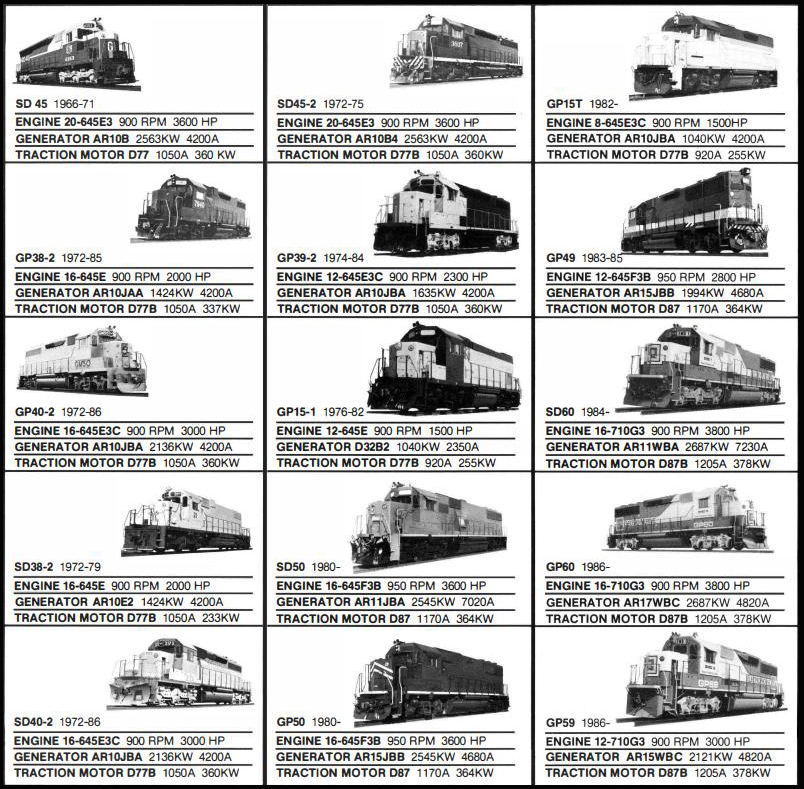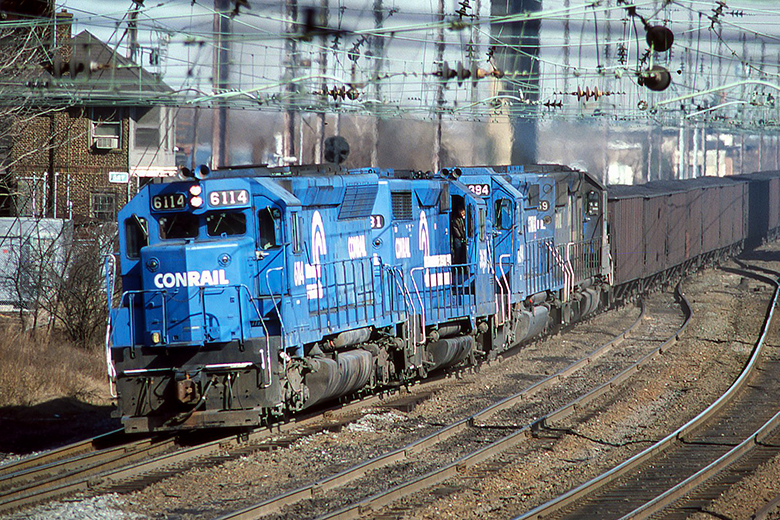 Conrail SD45 number #6114 pulls an heavy coal consist near Philadelphia, in 1977.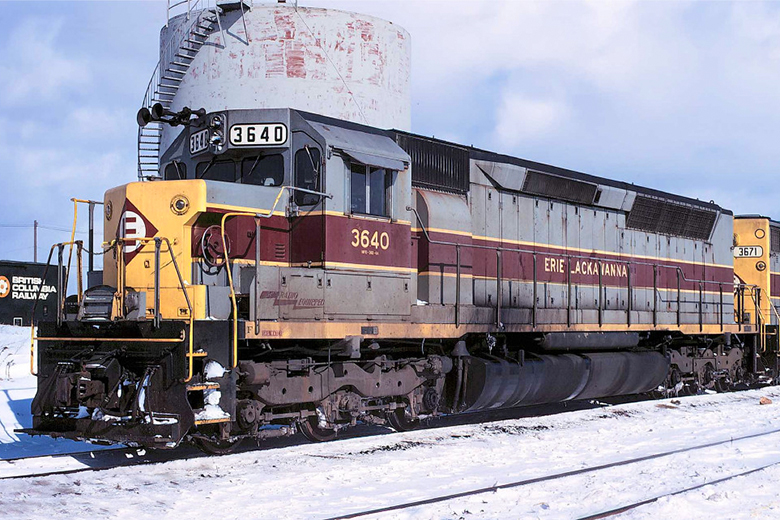 EMD SDP45 Erie Lackawanna #3640 (then CR-6671).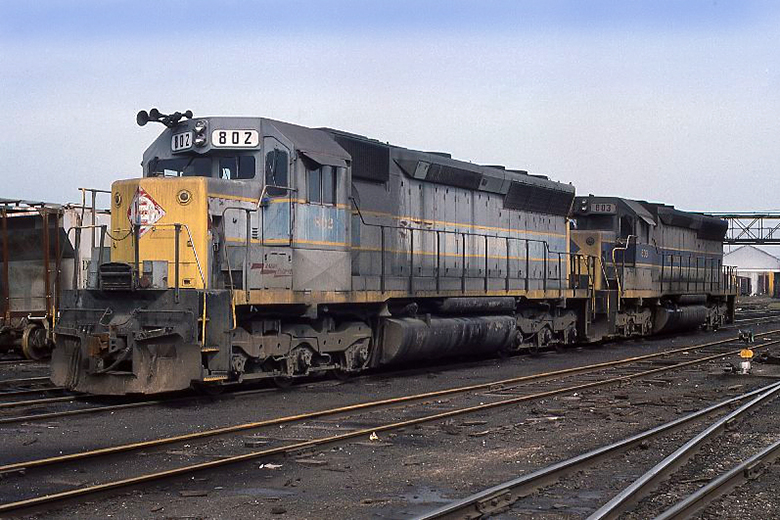 A pair of SD45 in service with Delaware & Hudson RR (former Erie Lackawanna units).


Conrail SD45 number #6125.
Conrail
inherited a fleet of 174
SD-45
's from the
Reading
(5 units with road-numbers 6100-6104), the
Erie Lackawanna
(34 locos with road numers from 6066 to 6099) and the
Penn Central
(135 engines classified through 6105-6239 road-numbers). P
lacing them in
CR
numbers 6066-6239.
Conrail
used its engines until 1985.
Power #6125 was a former Pennsylvania Railroad (then Penn Central) assigned at the Eastern Regions - Philadelphia and Middle Divisions. In
Conrail
,
i
t served on many lines, pulling coal and trailer trains.
Received Conrail's blue livery in mid-1977.
EMD SD45 Conrail #6125 data
Type:
C-C diesel locomotive
Previous owner:
Penn Central (Pennsylvania Railroad)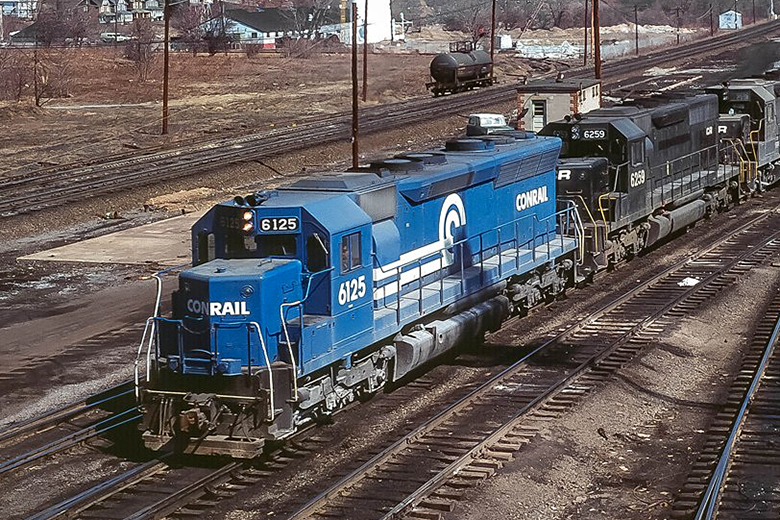 EMD SD45 #6125 (repaint in blu livery from the mid of 1977).
Walthers PROTO 2000 EMD SD45 Conrail #6125
Walthers
reproduced the
EMD SD45
diesel locomotive in blue livery with some different road-numbers. The engine No.6125 is equipped with an ESU LokSound digital decoder. This item is very detailed, but some important details have been omitted, such as the sanding pipes on the trucks and others. The
AT Collection
model is improved and averagely custom weathered.