GENERAL ELECTRIC U23B DIESEL ELECTRIC LOCOMOTIVE - ATLAS MASTER LINE DCC/SOUND
Powered by a General Electric V12-FDL prime mover, the 2.250 h.p. U23b was GE's intermediate-sized four-axle road-switcher built beetwen late 1960s through the mid 1970s. The U23B's direct competitor during this period was the very successful EMD GP38. In 10 years of production a total of 481 units were produced, making this the second best seller of GE's "Universal Series" locomotives. The first units were delivered to the Delaware & Hudson in August and September 1968. CSX predecessors Chesapeake & Ohio and Louisville & Nashville had a combined fleet of 120 units, giving CSX one of the larger active fleets in later years. Penn Central, Santa Fe and Missouri Pacific also purchased sizeable fleets of U23Bs.
The PC fleet was completely inherited by Conrail (about 90 engines).

The original GE "Universal series" design
has been maintained about U23b model.
Primary spotting features include a stepped-out radiator section and two sets of three tall engine access doors near the center of the long hood. During production, the U23B was equipped with various truck side frames, including Blomberg trucks from EMD trade-in locomotives, AAR-style trucks, or GE's own four-axle FB2 truck.
A "high hood" variant was also available.

Only few surviving examples of this reliable diesel locomotive remain in service today with some local private lines.

Specifications / Technical data
Builder:
General Electric Company
Prime mover:
GE 7FDL-12 4-cycle 12 cylinders
Tractive effort:
90.000 lbs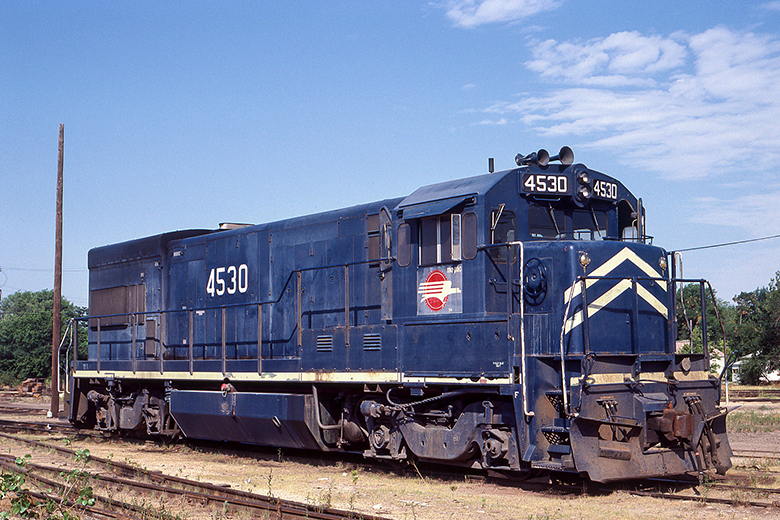 GE U30b Missouri Pacific #4530 (s/n 41525) in 1980.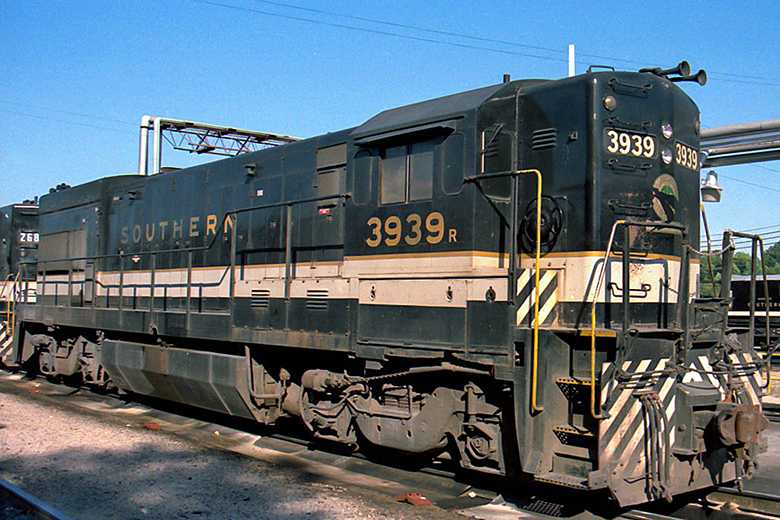 GE U30b "high hood" Southern #3939r (s/n 40082) in 1985.
Conrail number #2779 (LV-503).
Conrail
put into service
89
U23b
s from
Penn Central
(77 units with CR numbers 2700-2776) and
Lehigh Valley
(12, with numbers 2777-2788). Some parts of this power it was reduced
in the early years due to some accidents. The unit LV-503 was built new in 1975, parts of the first acquisition from USRA by PRR/LV (order number 1437B). #503
operated dressed in LV livery until early 1977, when it received the first CR stencils. Patched CR
was brought
until the early 1980s when it was painted with the classic blue Conrail paint.
GE U23B Conrail #2779 (former Lehigh Valley #503) data
Type:
B-B diesel locomotive
Builder:
General Electric
Previous owner:
Lehigh Valley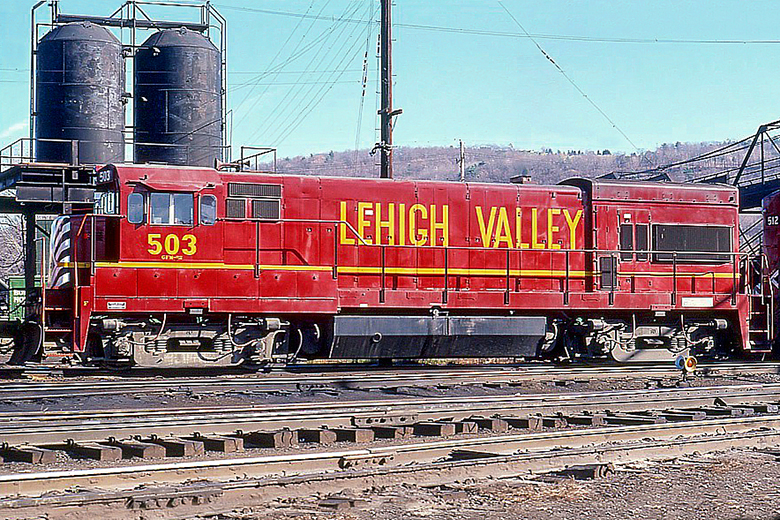 GE U23b Lehigh Valley #503 (s/n 40100) in 1975 at Sayre, PA.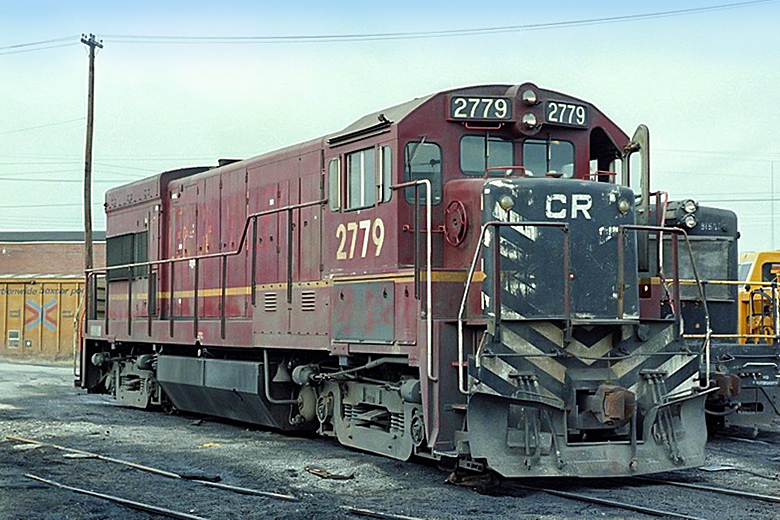 GE U23b Conrail #2779 (s/n 40100) ex LV-503 in 1980.



ATLAS MASTER LINE GENERAL ELECTRIC U23b Lehigh Valley number 503 (then Conrail No.2779).
The last run by Atlas about GE U23B replica is dated 2019-2020. The new model are available in Gold Line (with DCC sound decoder installed) and in Silver Line (DCC ready).
The U23b models from Atlas are in high demand, because the offer on the market of this type of locomotive is poor.
PRRHO.com
choose for its project
Conrail Early Years 1976-1978
(after months of research) the item number #
10003426, a loco "Silver series" with
Lehig Valley
colors and road-number #503.

As usual, Atlas presents a good HO scale model. In general, the level of production and detail is high, but some
typical characteristics of real prototypes are lost.
So, the work needed to bring the replica similar to the real U23b, was tough.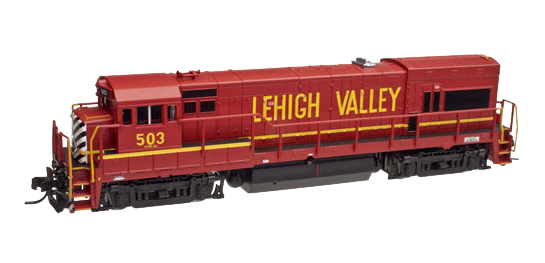 The improving work.
The initial phase was the disassembly of the model, separating the body (plastic) from the chassis (metal). First, you need to remove the couplers (Accumate type ... to replace).
Then, the trucks were disassembled,
improving its appearance by working on side frame, adding some parts, as the speed detector (left side), and the brake chain (right side, front truck).
After adding some details to the carbody, such as the sunshields (not optional by Atlas), we started the weathering phase (see images below).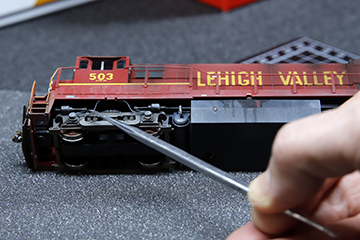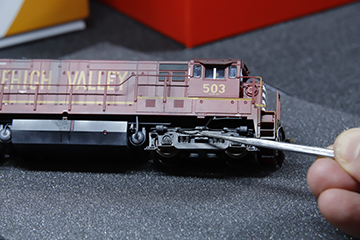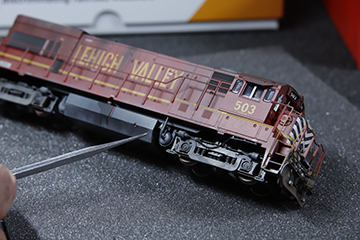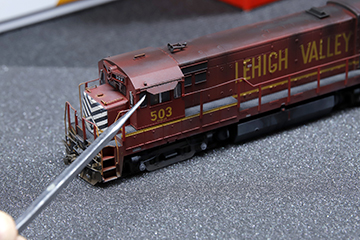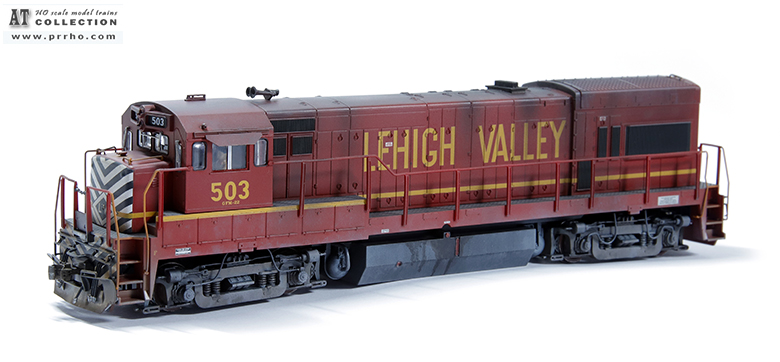 The last operation was the replacing of decoder. Our choice has been oriented towards the item
Tsunami 2 TSU-21PNEM8
produced by Soundtraxx, perfect and highly performing to reproduce the FDL12 engine.