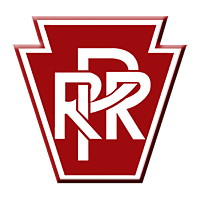 The history of PRR.
The
Pennsylvania Railroad
was founded in 1846 and went on to become one of the largest railroads in US history at one time managing a budget larger than the US government's. It controlled about 10,000 miles of track and was affiliated with about 800 other rail companies. The
PRR
developed a repair facility in
Altoona
in 1849 that was later to become the largest in the world. Additional repair shops were developed in Western Pennsylvania and Fort Wayne, Indiana. In the following years, facilities present at Altoona, renamed Altoona and Juniata Shops, contributed to the development of the railroad company with the production of locomotives, freight and passenger cars. In addition, to Altoona, took place also the maintenance and repairs.
Multiple mergers and expansions took place in the late 1800's and early 1900's that helped form the Pennsylvania Railroad including acquisition of the North Central Railway, United New Jersey Railroad and Canal Company, Baltimore and Potomac RR, Union RR and later the Philadelphia, Wilmington and Baltimore RR (PW&B). Passenger service started in 1885 from NYC to Washington, DC called the "Congressional Limited Express". Later the "Senator" was added from Boston to Washington. The passenger service continued to expand with the New York to Chicago service called the "Pennsylvania Limited". This was the first passenger service to contain the
vestibule between each car allowing movement from one car to another within an enclosed area. In 1902, this line was changed to the "Pennsylvania Special", and later in 1912, it was replaced by the famous "Broadway Limited".
The growth of the Pennsylvania Railroad, in many respects, closely parallels the movement westward to the growing population centers in the midwest. The City of Philadelphia and the State of Pennsylvania wanted to meet the challenge of New York interests to be the first railroad to the west. In addition, there were many small railroads starting up in Ohio, Indiana and Illinois, all trying to serve segments of the path toward the growing cities. The main lines of the Pennsylvania were brought together through charters, mergers, leases and acquisitions to reach from Philadelphia to the major western cities of Pittsburgh, Cleveland, Cincinnati, Chicago and St. Louis. In addition, the eastern cities of Washington, Baltimore and New York City were in the sites of the Pennsylvania.
In 1910, the PRR began to electrify some of its rail lines using DC current that supplied power via a third rail. This started in the New York Terminal first, then was followed by Philadelphia, but this time, the power was supplied by overhead lines using AC current. This method then became the universal way of electrifying train lines. The "Congressional Limited" became the first passenger service to use electric trains between New York and Washington pulled by GG1-type locomotives. The "Metropolitan" was the first electric passenger train to go into operation from Philadelphia to Harrisburg in 1938. Eventually, over 2600 miles of track became electrified within the PRR system.
In 1916, the PRR began using the slogan "Standard Railroad of the World", meaning the PRR was the railroad by which all other railroads measured themselves. It was the first railroad to implement many new innovations, including the vestibule as mentioned above. Also they were the first to replace wooden cars with steel-bodied cars. They were also one of the first companies to standardize equipment and processes throughout the entire company, not a common concept in those times. They were even one of the first to standardize their color scheme.
PRR used some aesthetic differences for the fleet of locomotives in use, to recognize immediately the engines intended for use by passengers as freight:
- steam engines freight service: a circular number plate on the front of smoke box
- steam locos passengers: road number inside the keystone in the same position
- diesel locomotives freight service: single strip to the sides of the body
- diesel locos passengers: five stripes to the sides of the body
- electric engines: as for diesel types.
Another first for the Pennsylvania Railroad was to use position-light signals to replace the old semaphore signals. The position-light signal was a round target-type display of up to 9 lights – one in the center and eight in a circle near the edge. The lights used were amber-colored so that they could be seen through fog. Different light displays sent different messages. They were usually displayed as 3 lit lights in a row. For example, if the 3 lights were arranged horizontally, that meant to stop. A vertical display meant to proceed. An "X" meant to take a siding. Later on the 2 outside lights in the horizontal row were changed to red lenses and the center light would be off in the "stop" display. Eventually, these signal displays could be transmitted electronically directly into the engineer's cab via a track circuit (called cab signaling). The PRR was the first to use this technology also.
The PRR's steam locomotives were built conservatively and standardized with a certain design style like the rest of the company. They designed and built a large number of their own locomotives. If they needed an outside service they would usually turn to Baldwin and rarely to ALCO since that was a supplier to its competitor, the
New York Central
.
Diesel locomotive use began in the 1940s beginning with E7s from General Motors Electro-Motive Division. Most were "A" units and some were "B" units (cabless boosters). Later after trying 2 groups of Baldwin engines which proved troublesome, they went back to EMD for E8 "A" unit locomotives in the early 1950s.
The Pennsylvania Railroad built many great passenger stations such as the Broad Street Station in Philadelphia, the Union Station in Washington, DC (built jointly with B&O), the Penn Station in New York City and in Newark New Jersey, the grand 30th Street Station In Philadelphia and the Union Station in Chicago (built jointly with
Milwaukee Road
and
Burlington Route
).
Like most large railways, the
Pennsylvania Railroad
was no stranger to big changes in the mid to late 1900's. In 1968, it merged with New York Central, one of its main competitors, to form the
Penn Central
System. Shortly after that, it acquired the New York, New Haven and Hartford Railroad. Unfortunately, the company met with hard times in the 70's and had to file for bankruptcy. Its assets were then transferred to
Conrail
in 1976. Conrail was later acquired by
Norfolk Southern
and
CSX
, splitting its assets. Now, most of the original PRR is owned by Norfolk Southern.
The Pennsylvania Railroad, however, stands as one of the greatest railroads in the history of the world. It was a great and grand empire in its day and made an undeniably huge contribution to industrialization, transportation and financial development of the United States. The famous "Horseshoe Curve", in operation since 1854 and built by PRR, located near Altoona (PA), is a favorite place to replicate by model railroaders. It was originally 2 track, then expanded to 4 tracks in 1898. Later, Conrail removed one of the tracks. The three track "engineering marvel" is now owned and operated by Norfolk Southern, CSX and others "class one" railroads of the East.
Predecessors, subsidiaries and affiliated railroads
Allegheny Valley Railroad
Ashbourne, Cheltenham and Philadelphia Railroad Company
Bala, Haverford and Villanova Passenger Railroad Company
Baltimore and Eastern Railroad Company
Baltimore and Potomac Railroad
Belvidere-Delaware Railroad
Bradford Railroad
Broad Street Underground Railroad Company
Bustleton and Eastern Railroad Company
Bustleton Railroad Company
Calumet & Western Railroad
Camden and Amboy Railroad
Camden & Burlington Railroad
Catonsville Short Line Railroad
Chartiers Southern Railway
Cherry Tree & Dixonville Railroad
Cleveland & Pittsburgh Railroad
Cleveland, Akron & Columbus Railroad
Cincinnati, Lebanon & Northern Railroad
Cincinnati, Richmond & Fort Wayne Railroad
Columbus, Chicago and Indiana Central Railroad
Columbus, Sandusky and Hocking Railroad
Connecting Railway Company
Connellsville & Monongahela Railroad
Cumberland Valley Railroad
Delaware, Maryland & Virginia Railroad
Delaware Railroad Company
Elmira & Lake Ontario Railroad
Elmira & Williamsport Railroad
Engelside Railroad Company
Erie & Pittsburgh Railroad
Fair Hill Railroad Company
Frankford and Holmesburg Railroad Company
Frankford Creek Railroad Company
Freehold and Jamesburg Railroad
Germantown and Chestnut Hill Railroad Company
Grand Rapids and Indiana
Harrison & East Newark Railroad
Hudson & Manhattan Railroad
Johnsonburg Railroad
Kensington and Tacony Railroad Company
Little Miami Railroad
Logansport & Toledo Railway Company
Long Island Railroad Company
Lorain, Ashland & Southern Railroad
Louisville Bridge & Terminal Railway
Mansfield, Coldwater and Michigan Railroad
Manufacturer's Railway
Market Street Underground Railroad Company
Massillon & Cleveland Railroad
New York and Long Branch Railroad
New York, Philadelphia & Norfolk Railroad
Northern Central Railroad Company
Ohio River & Western Railroad
Overbrook, Bryn Mawr and Paoli Railway Company
Overbrook, Wayne and Paoli Railway Company
Paoli, Wayne and Overbrook Street Railway Company
Pemberton & Hightstown Railroad
Pennsylvania & Atlantic Railroad
Pennsylvania, Ohio & Detroit Railroad
Pennsylvania Tunnel & Terminal Company
Perth Amboy & Woodbridge Railroad
Philadelphia, Bala and Narberth Railway Company
Philadelphia, Baltimore & Washington Railroad
Philadelphia, Baltimore and Wilmington Railroad Company
Philadelphia Belt Line Railroad
Philadelphia, Bryn Mawr and Paoli Street Railway Company
Philadelphia and Bustleton Railway Company
Philadelphia, Bustleton and Trenton Railroad Company
Philadelphia & Erie Railway
Philadelphia, Germantown and Chestnut Hill Railroad Company
Philadelphia & Long Branch Railroad
Philadelphia & Trenton Railroad
Philadelphia, Wilmington and Baltimore Railroad Company
Pittsburgh, Cincinnati, Chicago & St. Louis Railroad
Pittsburgh, Chartiers & Youghiogheny Railroad
Pittsburgh, Fort Wayne & Chicago Railroad
Pittsburgh, Ohio Valley and Cincinnati Railroad
Pittsburgh & Steubenville Railroad
Pittsburgh, Youngstown & Ashtabula Railway Company
Radnor Belt Line Street Railway Company
Redstone Central Railroad
Richmond-Washington Company
Roxborough Railroad Company
St. Louis, Alton & Terre Haute Railroad
Shamokin Valley & Pottsville Railroad
South Chicago & Southern Railroad
Steubenville & Indiana Railroad
Terre Haute & Indianapolis Railroad
Toledo, Columbus & Ohio River Railroad
Toledo, Peoria & Western Railroad
Toledo, Tifflin and Eastern Railroad
Toledo and Woodvale Railroad
Trailer Train Corporation
Union Railroad of Baltimore
United New Jersey Railroad
West Jersey and Seashore Railroad Company
Western New York & Pennsylvania Railroad
Wheeling Terminal Railroad
Winfield Railroad
York, Hanover & Frederick Railroad
Youngstown & Ravenna Railroad
US Railroad History & PRR Timeline
1791 -
Anthracite coal is discovered at Mauch Chunk, PA.
1804 -
Richard Trevithick builds a successful steam locomotive to run on simply rails of the Pen-y-Darren tramway in South Wales.
1809 -
Thomas Leiper's horse-drawn wooden tramway connected quarries in Delaware County (Pennsylvania) to a boat landing. It was the first time rails were utilized for freight transportation.
1815 -
The state of New Jersey granted America's first railroad charter to Col. John Stevens of Hoboken, to run between New Brunswick and Trenton, NJ. Because of funding difficulties, it was not built.
1825 -
Col. John Stevens built and operated a prototype steam locomotive on a circular track on his estate at Castle Point, Hoboken, NJ.
1827 -
The Baltimore and Ohio Railroad is chartered to run from Baltimore to the Ohio River in Virginia. It was the first westward bound railroad in America.
1828 -
Charles Carroll, the last surviving signer of the Declaration of Independence, lays the first stone to begin construction of the Baltimore & Ohio Railroad, the nation's first common carrier.
1829 -
The Stourbridge Lion
, imported from England, was experimentally operated by Horatio Allen on the Delaware & Hudson Canal Company's railroad at Honesdale, Pa. It was the first steam engine to run on commercial railroad tracks in the United States.
1830 -
The first scheduled passenger train service in America, by
Best Friend of Charleston
, at Charleston, South Carolina.
23 miles of railroad track completed in the United States.
1831 -
Robert Stephenson built the locomotive
John Bull
in England for the Camden & Amboy Railroad, operated by the sons of Col. John Stevens. It made its inaugural run in Bordentown, NJ in November, and entered regular passenger service in 1833.
The first U.S. mail is carried by rail on the South Carolina Canal & Railroad Co.
Locomotive
DeWitt Clinton
pulls the first steam train in New York.
The Elizabethtown & Somerville, the earliest ancestor road of the Central Railroad of New Jersey, is incorporated.
1832 -
April, the 6-foot gauge New York & Erie, the ancestor of the Erie Railway, receives a charter from the New York State Legislature.
November 23, Matthias Baldwin, a Philadelphia jeweler and abolitionist, entered the locomotive business with the successful operation of his first locomotive,
Old Ironsides
, on the Philadelphia, Germantown & Norristown Railroad.
1833 -
Staple Bend Tunnel on the Allegheny Portage Railroad, east of Johnstown (Pennsylvania), is the first railroad tunnel built in the Western Hemisphere.
1837 -
The first American-type locomotive (4-4-0) is planned and built.
The first sleeping car, a crudely remodeled day coach, was placed in service on the Cumberland Valley Railroad between Harrisburg and Chambersburg.
1840 -
Nearly 3,000 miles of railroad and 3,300 miles of canal in operation in the United States.
1841 -
The first caboose, termed a way-car, was placed in service on the Auburn & Syracuse Railroad in New York.
1842 -
The Philadelphia & Reading Railway is opened to transport hard coal from mines in Schuylkill County's southern anthracite field to tidewater Philadelphia.
1845 -
The first iron railroad bridge in the U.S. opens on the Philadelphia & Reading near Manayunk, Pa.
1846 -
April 13, the
Pennsylvania Railroad
obtains a charter from the Pennsylvania State Legislature and so, the future "Standard Railroad of the World" was created.
Commonwealth of PA chartered the PRR to build a rail and canal corridor from Harrisburg to Pittsburgh. Then, charter to build from Richmond to New Castle (Indiana).
1848 -
Ohio and
Pennsylvania RR
chartered to build from Pittsburgh to Crestline (Ohio).
Erie Railway's Starrucca Viaduct is completed at Lanesboro, Pa.
PRR
chartered to build west from Steubenville (Ohio).
1849 -
The Liggett's Gap Railroad is incorporated in Scranton. It later becomes the Delaware, Lackawanna & Western Railroad.
PRR
charter to build west from Pittsburgh across Virginia, beginning of The Panhandle Route.
1850 -
The
Pennsylvania Railroad
becomes the first railroad to own and operate an anthracite mine in northeastern Pennsylvania.
1851 -
September 22,
The telegraph, invented by Samuel F. B. Morse, is first used in railroad dispatching operations, on the Erie Railway at Turners, NY.
1852 -
Fort Wayne & Chicago chartered to build west to Chicago.
1853 -
Line to Crestline completed and used by many railroads.
Richmond to New Castle (Indiana) main line opened by
PRR
.
1854 -
February 15, The
Pennsylvania Railroad
's 1300-foot long Horseshoe Curve at Altoona opens for service.
Line to Fort Wayne completed (Ohio & Indiana & Great Western of Ohio RR).
1855 -
Line west to Newark (Ohio) was completed.
1856 -
The first railroad bridge across the Mississippi River is completed at Davenport, Iowa.
1859 -
The first Pullman sleeping car, built by George Mortimer Pullman, makes its initial run.
1862 -
The first mail car for sorting mail en route is placed into service between Hannibal and St. Joseph, MO.
1865 -
Manual block system of train control perfected by Ashbel Welch was placed in service between New Brunswick, NJ and Philadelphia.
1868 -
Eli Janney patents his automatic or "knuckle" coupler.
1869 -
The completion of the nation's first transcontinental railroad is celebrated at Promontory Summit, Utah with the driving of a golden spike.
1879 -
The Pittsburgh & Lake Erie Railway opens for freight service.
1880 -
With 30,000 employees and $400 million in capital, the
Pennsylvania Railroad
is the world's largest corporation.
1881 -
Railroad mileage exceeds 100,000 route miles for the first time.
1882 -
The Erie's Kinzua Viaduct is completed near Mt. Jewett, Pa. At 301 feet high, it is the nation's highest railroad bridge.
1883 -
Standard time is introduced to the nation by the railroads.
1886 -
Standard gauge, or 4 feet, 8-1/2 inches (measured between the inside vertical surfaces of each rail head), is adopted as the national standard.
1893 -
New York Central locomotive No. 999 attains a record speed of 112.5 miles per hour near Batavia, NY.
1895 -
On the B&O, electrified locomotive train service in America begins.
1902 -
Rockville bridge, the longest stone arch bridge in the world, is built by the
Pennsylvania Railroad
across the Susquehanna River near Harrisburg. It still stands and is in use.
1906 -
The first all-steel passenger coach built by the
Pennsylvania Railroad
's Altoona shops, is introduced in commuter service.
1910 -
Completed at $112.9 million, the PRR's
Pennsylvania Station in New York City opens for business.
1912 -
The
Pennsylvania Railroad
's blue ribbon New York-Chicago overnight express is christened
The Broad Way Limited
.
1914 -
Production of K4 class 4-6-2 Pacific steam locos for
Pennsylvania Railroad
begin at Altoona (Juniata Shops).
1915 -
The DL&W's Tunkhannock Viaduct opens at Nicholson, Pa.
1916 -
U.S. railroads reach their peak mileage, with over 254,037 miles of trackage.
PRR
adopts new motto,
"
Standard Railroad of the World
"
. The first I1s "Decapod" 2-10-0 steam locomotive is completed, and switching locomotives of the A5s and B6sb class are introduced.
1920 -
Pennsylvania's peak railroad mileage totals 11,551 miles.
1923 -
The Reading Company merges the Philadelphia & Reading and other subsidiaries and becomes an operating company.
1925 -
The American Locomotive Company (ALCO), along with G.E. and IR, builds its first Diesel-electric loco.
The Central Railroad of New Jersey purchases this first diesel-electric locomotive for use as a switch engine in its New York City yard.
1927 -
Pennsylvania Railroad
Atlantic Class Locomotive No. 460 races a plane carrying newsreel films of Charles Lindbergh's triumphal welcome in Washington, DC, and gets the films to Broadway theaters before the plane. The competition between train and plane on this route continues today. This locomotive is on display at the Railroad Museum of Pennsylvania.
1930 -
Air-conditioned passenger cars first appear.
1934 -
Introduction of lightweight streamlined passenger trains by the Chicago, Burlington & Quincy and the Union Pacific.
1935 -
The first electric streamliner locomotive GG-1 entered in service with
PRR
.
1941 -
At 7,000 horsepower, the Union Pacific's "Big Boy" locomotives (4-8-8-4) debut as the world's largest steam locomotives ever built.
1945 -
Railroads quickly purchased diesel locomotives for freight and passenger service; the last domestically-built engines are delivered by Alco, Baldwin and Lima four years later.
1946 -
Last
Pennsylvania Railroad
steam locomotive, T1, 5546 (4-4-4-4), enters service.
1952 -
The
Pennsylvania Railroad
's Broad Street Station in Philadelphia closes, ending seventy-one years of faithful service.
1956 -
The Baldwin Locomotive Works of Philadelphia, once the world's largest producer of locomotives, ceases production with a total output of 70,500 locomotives built.
1957 -
The New York, Ontario & Western Railway becomes the first anthracite carrier to abandon operations in Pennsylvania.
Pennsylvania Railroad
ends its use of steam locomotives. Some of its most historic locomotives are in storage, most destined to be preserved in the future Railroad Museum of Pennsylvania.
1959 -
National rail network drops to 220,000 miles.
1960 -
The Grand Trunk Western in Detroit, Michigan, operated the nation's last regularly scheduled steam passenger service with two 4-8-4's.
The Delaware, Lackawanna & Western and the Erie merge as the Erie-Lackawanna Railway.
1963 -
The
Pennsylvania Railroad
's grand Penn Station in New York City's midtown was demolished, ushering in the contemporary historic preservation movement.
1968 -
February 1, The
Pennsylvania Railroad
and the New York Central merge together to form the world's largest privately-owned railway, the Penn Central.
1970 -
The Penn Central declares bankruptcy, with a $431 million loss; it was the biggest business failure in American history.
1971 -
Amtrak is created as a measure of nationalizing the country's passenger trains.
1975 -
The Railroad Museum of Pennsylvania opens to the public for the first time, with the first building built specifically for a train museum.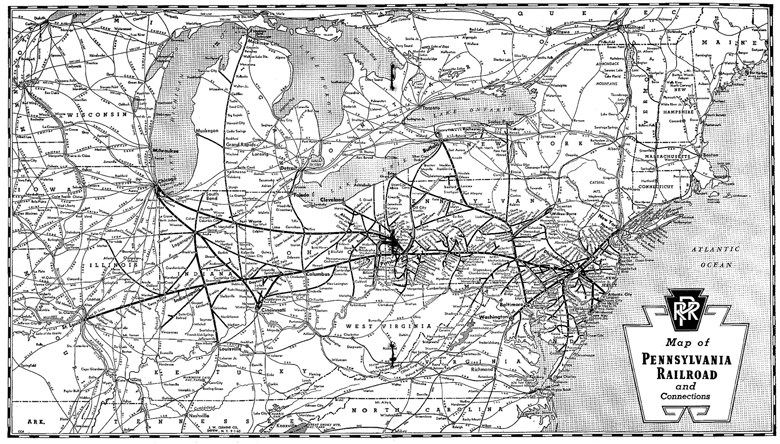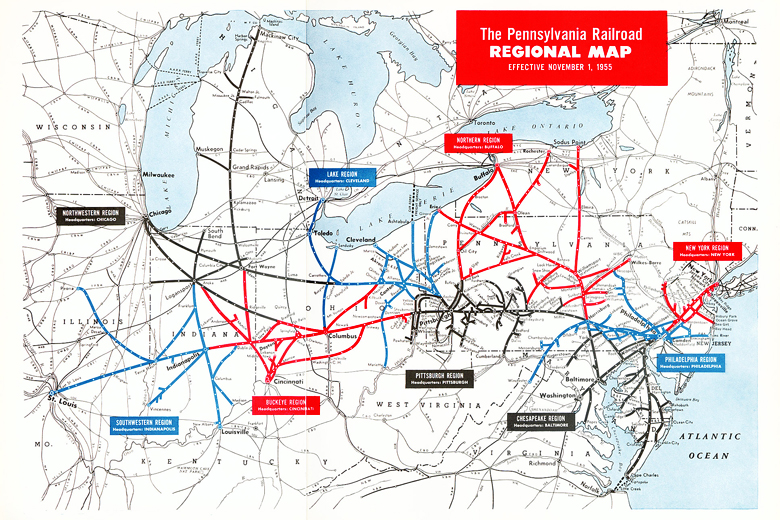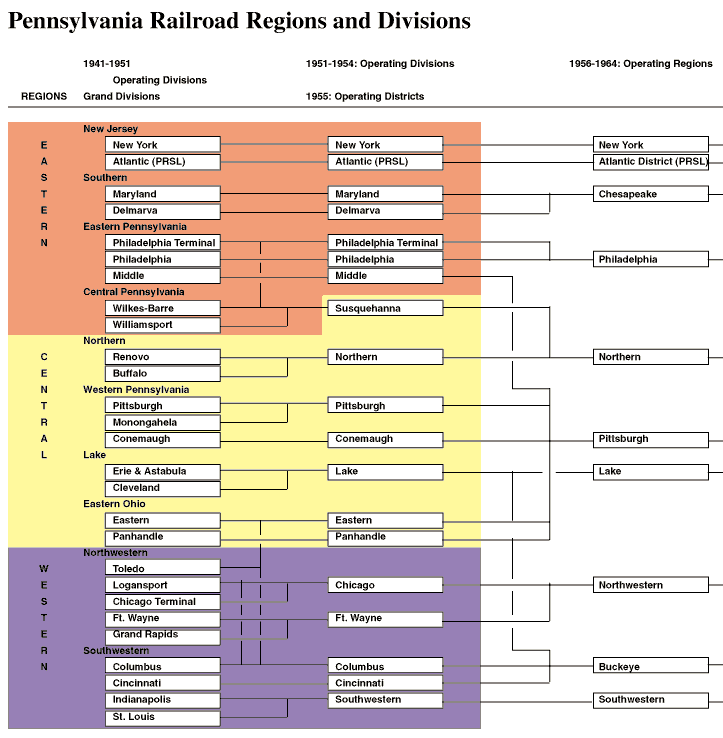 Pennsylvania Railroad Motive Power Steam Locomotives
Class
Wheel
Arrang.
Drive
Dia.
Cylinders


Diameter x Stroke
Boiler
Press.
Ad.
Wt.
EW
WO
Grate
Area
Evap.
Surface
Sup.
Surface
Remarks
A1
0-4-0T
44in
15x22in
125psi
29t
29t
12sq.ft.
594sq.ft.
none
Orig: Q
A2
0-4-0
50in
15x24in
125psi
32t
32t
12sq.ft.
602sq.ft.
none
Orig: Q
A2a
0-4-0T
50in
15x24in
125psi
32t
32t
12sq.ft.
602sq.ft.
none
Orig: Q
A3
0-4-0
50in
17x24in
140psi
36t
36t
14sq.ft.
900sq.ft.
none
Orig: U
A3a
0-4-0T
50in
17x24in
160psi
44t
44t
14sq.ft.
900sq.ft.
none
A4
0-4-0
50in
18½x24in
185psi
53t
53t
37sq.ft.
1245sq.ft.
none
A5s
0-4-0
50in
20x24in
185psi
60t
60t
38sq.ft.
993sq.ft.
327sq.ft.
B1
0-6-0
44in
15x18in
125psi
32t
32t
11sq.ft.
713sq.ft.
none
Orig: F
B2
0-6-0
44in
15x22in
125psi
29t
29t
13sq.ft.
855sq.ft.
none
Orig: H
B3
0-6-0
50in
19x24in
125psi
40t
40t
15sq.ft.
1196sq.ft.
none
Orig: M
B4
0-6-0
50in
19x24in
160psi
49t
49t
15sq.ft.
1333sq.ft.
none
Orig: M
B4a
0-6-0
50in
19x24in
160psi
45t
45t
18sq.ft.
1353sq.ft.
none
Orig: M
B5
0-6-0
50in
20x24in
185psi
41t
41t
56sq.ft.
1260sq.ft.
none
B6
0-6-0
56in
22x24in
205psi
77t
77t
41sq.ft.
2495sq.ft.
none
B6a
0-6-0
56in
22x24in
205psi
79t
79t
62sq.ft.
2493sq.ft.
none
B6sa
0-6-0
56in
22x24in
205psi
82t
82t
62sq.ft.
1883sq.ft.
678sq.ft.
B6sb
0-6-0
56in
22x24in
205psi
82t
82t
62sq.ft.
1910sq.ft.
354sq.ft.
B8
0-6-0
56in
20x24in
205psi
65t
65t
32sq.ft.
1868sq.ft.
none
B8a
0-6-0
56in
20x24in
205psi
76t
76t
32sq.ft.
1868sq.ft.
none
B28s
0-6-0
51in
21x28in
190psi
75t
75t
33sq.ft.
1902sq.ft.
441sq.ft.
USRA
C1
0-8-0
56in
27x30in
250psi
126t
126t
62sq.ft.
3214sq.ft.
741sq.ft.
CC1s
0-8-8-0
56in
23/39x30in
205psi
185t
185t
78sq.ft.
4953sq.ft.
988sq.ft.
Mallet
CC2s
0-8-8-0
51in
26/40x28in
225psi
208t
208t
96sq.ft.
5013sq.ft.
1379sq.ft.
Mallet
D1
4-4-0
68in
17x24in
125psi
22t
35t
16sq.ft.
1052sq.ft.
none
Orig: A
D2
4-4-0
62in
18x24in
125psi
24t
37t
18sq.ft.
1057sq.ft.
none
Orig: B
D2a
4-4-0
68in
18x24in
125psi
24t
37t
18sq.ft.
1057sq.ft.
none
Orig: B A
D3
4-4-0
62in
17x24in
125psi
23t
36t
18sq.ft.
1057sq.ft.
none
Orig: C
D4
4-4-0
62in
17x24in
125psi
25t
37t
29sq.ft.
1158sq.ft.
none
Orig: C

ANTH
D4a
4-4-0
68in
17x24in
125psi
26t
38t
29sq.ft.
1158sq.ft.
none
C A

ANTH
D5
4-4-0
56in
15x22in
125psi
18t
30t
13sq.ft.
721sq.ft.
none
Orig: G
D6
4-4-0
78in
18x24in
140psi
29t
44t
35sq.ft.
1240sq.ft.
none
Orig: K
D6a
4-4-0
72in
18x24in
140psi
29t
44t
35sq.ft.
1240sq.ft.
none
D7
4-4-0
68in
17x24in
140psi
29t
42t
35sq.ft.
1289sq.ft.
none
Orig: A

ANTH
D7
4-4-0
68in
17x24in
140psi
29t
42t
35sq.ft.
1444sq.ft.
none
Orig: A

ANTH
D7a
4-4-0
62in
17x24in
140psi
30t
44t
35sq.ft.
1289sq.ft.
none
D8
4-4-0
62in
17x24in
130psi
26t
41t
18sq.ft.
1392sq.ft.
none
Orig: N
D8a
4-4-0
62in
18x24in
130psi
26t
42t
18sq.ft.
1392sq.ft.
none
Orig: O
D9
4-4-0
62in
18x24in
160psi
27t
44t
18sq.ft.
1283sq.ft.
none
Orig: O
D9a
4-4-0
68in
18x24in
160psi
28t
45t
18sq.ft.
1283sq.ft.
none
Orig: O
D10
4-4-0
62in
18x24in
160psi
30t
47t
17sq.ft.
1256sq.ft.
none
Orig: O
D10a
4-4-0
68in
18x24in
160psi
30t
47t
17sq.ft.
1256sq.ft.
none
Orig: O
D11
4-4-0
62in
18½x24in
140psi
34t
49t
35sq.ft.
1530sq.ft.
none
Orig: P
D11a
4-4-0
68in
18½x24in
140psi
31t
46t
35sq.ft.
1530sq.ft.
none
Orig: P
D12
4-4-0
62in
18½x24in
160psi
33t
48t
33sq.ft.
1382sq.ft.
none
Orig: P
D12a
4-4-0
68in
18½x24in
160psi
33t
48t
33sq.ft.
1382sq.ft.
none
Orig: P
D13
4-4-0
62in
18½x24in
160psi
34t
50t
33sq.ft.
1572sq.ft.
none
Orig: P
D13a
4-4-0
68in
18½x24in
175psi
35t
51t
33sq.ft.
1572sq.ft.
none
Orig: P
D13b
4-4-0
62in
18½x24in
175psi
36t
52t
33sq.ft.
1572sq.ft.
none
centercentercentercenter
D13c
4-4-0
68in
18½x24in
175psi
36t
52t
33sq.ft.
1572sq.ft.
none
D14
4-4-0
78in
18½x24in
175psi
37t
56t
33sq.ft.
1583sq.ft.
none
Orig: P
D14a
4-4-0
80in
19x24in
175psi
40t
58t
33sq.ft.
1583sq.ft.
none
Orig: P
D15
4-4-0
84in
19½(1)/31(1)x28in
205psi
43t
66t
30sq.ft.
1825sq.ft.
none
Orig: T
D16
4-4-0
68in
18½x26in
185psi
42t
61t
33sq.ft.
1918sq.ft.
none
Orig: L
D16a
4-4-0
80in
18½x26in
185psi
42t
61t
33sq.ft.
1918sq.ft.
none
Orig: L
D16b
4-4-0
68in
18½x26in
185psi
46t
63t
33sq.ft.
1900sq.ft.
none
D16c
4-4-0
80in
18½x26in
185psi
44t
63t
33sq.ft.
1900sq.ft.
none
D16d
4-4-0
80in
18½x26in
185psi
42t
63t
33sq.ft.
1900sq.ft.
none
D16sb
4-4-0
68in
20½x26in
175psi
45t
64t
33sq.ft.
1400sq.ft.
253sq.ft.
D

odd
4-4-0
78in
19x24in
180psi
37t
57t
26sq.ft.
1800sq.ft.
none
D: 1504
D

odd
4-4-0
78in
13/24x24in
180psi
38t
56t
38sq.ft.
1700sq.ft.
none
D: 1510
E1
4-4-2
80in
20½x26in
185psi
46t
79t
69sq.ft.
2320sq.ft.
none
E2a
4-4-2
80in
20½x26in
205psi
54t
86t
55sq.ft.
2640sq.ft.
none
E2s
4-4-2
80in
20½x26in
205psi
55t
87t
55sq.ft.
2041sq.ft.
412sq.ft.
E3a
4-4-2
80in
22x26in
195psi
54t
86t
55sq.ft.
2640sq.ft.
none
E3s
4-4-2
80in
22x26in
205psi
55t
87t
55sq.ft.
2041sq.ft.
412sq.ft.
E4
4-4-2
80in
20½x26in
205psi
58t
91t
55sq.ft.
2640sq.ft.
none
E4s
4-4-2
80in
20½x26in
205psi
58t
95t
55sq.ft.
2007sq.ft.
786sq.ft.
E5
4-4-2
80in
22x26in
205psi
58t
91t
55sq.ft.
2640sq.ft.
none
E5s
4-4-2
80in
22x26in
205psi
58t
95t
55sq.ft.
2041sq.ft.
412sq.ft.
E6
4-4-2
80in
23½x26in
205psi
60t
109t
55sq.ft.
4091sq.ft.
none
E6s
4-4-2
80in
23x26in
205psi
59t
107t
55sq.ft.
2667sq.ft.
561sq.ft.
E6s
4-4-2
80in
23½x26in
205psi
62t
110t
55sq.ft.
2896sq.ft.
613sq.ft.
1913
F1
2-6-0
62in
20x28in
185psi
58t
66t
30sq.ft.
1878sq.ft.
none
F1a
2-6-0
62in
20x28in
185psi
57t
67t
30sq.ft.
1884sq.ft.
none
F2
2-6-0
62in
20(1)/29(1)x28in
205psi
61t
71t
30sq.ft.
1878sq.ft.
none
F3
2-6-0
62in
20x28in
205psi
64t
74t
31sq.ft.
2432sq.ft.
none
F3c
2-6-0
62in
20x28in
205psi
65t
75t
47sq.ft.
2469sq.ft.
none
G1
4-6-0
50in
18x22in
125psi
27t
38t
15sq.ft.
1093sq.ft.
none
Orig. D
G1a
4-6-0
50in
18x22in
125psi
26t
37t
15sq.ft.
1093sq.ft.
none
G2
4-6-0
50in
18x22in
125psi
28t
38t
16sq.ft.
1096sq.ft.
none
Orig. E
G3
4-6-0
68in
19x24in
180psi
51t
63t
31sq.ft.
1900sq.ft.
none
Orig. X
G4a
4-6-0
62in
20x28in
225psi
63t
83t
31sq.ft.
2814sq.ft.
none
G5s
4-6-0
68in
24x28in
205psi
81t
108t
55sq.ft.
2862sq.ft.
798sq.ft.
G5s
4-6-0
68in
24x28in
205psi
81t
108t
55sq.ft.
2855sq.ft.
613sq.ft.
1928
G

odd
4-6-0
72in
14/24x24in
180psi
46t
60t
28sq.ft.
2200sq.ft.
none
Q: 1502
G

odd
4-6-0
74in
20(1)/30(1)x24in
180psi
48t
65t
26sq.ft.
2000sq.ft.
none
Q: 1503
H1
2-8-0
50in
20x24in
125psi
43t
38t
23sq.ft.
1260sq.ft.
none
Orig. I
H2
2-8-0
50in
20x24in
140psi
44t
49t
23sq.ft.
1260sq.ft.
none
Orig. S
H3
2-8-0
50in
20x24in
140psi
46t
52t
31sq.ft.
1731sq.ft.
none
Orig. R
H3a
2-8-0
50in
20x24in
140psi
52t
57t
32sq.ft.
1498sq.ft.
none
Orig. R
H3b
2-8-0
50in
20x24in
150psi
51t
58t
32sq.ft.
1498sq.ft.
none
H4
2-8-0
56in
22x28in
185psi
71t
79t
30sq.ft.
2470sq.ft.
none
316 2" tubes
H4
2-8-0
56in
22x28in
185psi
71t
79t
30sq.ft.
2322sq.ft.
none
263 x 2¼"
H5
2-8-0
56in
23½x28in
185psi
84t
94t
33sq.ft.
2721sq.ft.
none
H6
2-8-0
56in
22x28in
205psi
75t
85t
33sq.ft.
2812sq.ft.
none
H6a
2-8-0
56in
22x28in
205psi
78t
88t
49sq.ft.
2844sq.ft.
none
H6b
2-8-0
56in
22x28in
205psi
81t
91t
49sq.ft.
2844sq.ft.
none
H6s
2-8-0
56in
23x28in
190psi
77t
87t
33sq.ft.
2185sq.ft.
533sq.ft.
H6sa
2-8-0
56in
23x28in
195psi
81t
90t
49sq.ft.
2234sq.ft.
429sq.ft.
1926
H6sb
2-8-0
56in
22x28in
205psi
82t
93t
49sq.ft.
2272sq.ft.
807sq.ft.
H6sb
2-8-0
56in
23x28in
195psi
82t
93t
49sq.ft.
2234sq.ft.
429sq.ft.
1928
H6sb
2-8-0
56in
22x28in
205psi
82t
93t
49sq.ft.
2234sq.ft.
429sq.ft.
1928
H8
2-8-0
62in
24x28in
205psi
95t
110t
55sq.ft.
3842sq.ft.
none
H8a
2-8-0
62in
24x28in
205psi
98t
109t
55sq.ft.
3839sq.ft.
none
H8b
2-8-0
62in
24x28in
205psi
96t
109t
55sq.ft.
3832sq.ft.
none
H8s
2-8-0
62in
24x28in
205psi
99t
111t
55sq.ft.
3033sq.ft.
1173sq.ft.
H8s
2-8-0
62in
24x28in
205psi
99t
111t
55sq.ft.
3070sq.ft.
613sq.ft.
1928
H8sa
2-8-0
62in
24x28in
205psi
100t
110t
55sq.ft.
3070sq.ft.
613sq.ft.
H8sb
2-8-0
62in
24x28in
205psi
102t
115t
55sq.ft.
3028sq.ft.
1173sq.ft.
H8sb
2-8-0
62in
24x28in
205psi
102t
115t
55sq.ft.
3070sq.ft.
613sq.ft.
1928
H9s
2-8-0
62in
25x28in
205psi
101t
114t
55sq.ft.
3028sq.ft.
1173sq.ft.
H9s
2-8-0
62in
25x28in
205psi
101t
114t
55sq.ft.
3070sq.ft.
613sq.ft.
1928
H10s
2-8-0
62in
26x28in
205psi
101t
112t
55sq.ft.
3070sq.ft.
613sq.ft.
H10s
2-8-0
62in
26x28in
205psi
103t
115t
55sq.ft.
3070sq.ft.
613sq.ft.
Stoker
H28
2-8-0
63in
23x32in
200psi
90t
100t
56sq.ft.
3775sq.ft.
none
HC1s
2-8-8-0
62in
30½x32in(4)
205psi
251t
266t
112sq.ft.
6612sq.ft.
2260sq.ft.
HH1
2-8-8-2
57in
25/39x32in
240psi
217t
241t
96sq.ft.
6120sq.ft.
1475sq.ft.
USRA
HH1s
2-8-8-2
56in
27x28in(4)
160psi
198t
219t
96sq.ft.
6120sq.ft.
1320sq.ft.
I1s
2-10-0
62in
30½x32in
250psi
148t
163t
70sq.ft.
4316sq.ft.
2064sq.ft.
Type A
I1s
2-10-0
62in
30½x32in
250psi
155t
168t
70sq.ft.
4331sq.ft.
1133sq.ft.
Type A, 1928
I1s
2-10-0
62in
30½x32in
250psi
160t
175t
70sq.ft.
4808sq.ft.
2283sq.ft.
Type E
I1sa
2-10-0
62in
30½x32in
250psi
160t
175t
70sq.ft.
4590sq.ft.
1634sq.ft.
Type E, 1929
J1
2-10-4
70in
29x34in
270psi
171t
261t
122sq.ft.
6568sq.ft.
2930sq.ft.
C&O

T-1
K2s
4-6-2
80in
24x26in
205psi
85t
128t
55sq.ft.
3691sq.ft.
791sq.ft.
K2sa
4-6-2
80in
24x26in
205psi
86t
133t
55sq.ft.
3653sq.ft.
1445sq.ft.
K2sa
4-6-2
80in
24x26in
205psi
87t
135t
55sq.ft.
3670sq.ft.
791sq.ft.
1928
K2sb
4-6-2
72in
24x26in
205psi
87t
130t
55sq.ft.
3653sq.ft.
1445sq.ft.
K4s
4-6-2
80in
27x28in
205psi
92t
140t
70sq.ft.
4020sq.ft.
1073sq.ft.
K4s
4-6-2
80in
27x28in
205psi
92t
140t
70sq.ft.
4041sq.ft.
943sq.ft.
1929
K4s
4-6-2
80in
27x28in
205psi
95t
145t
70sq.ft.
4041sq.ft.
943sq.ft.
Stoker
K4s
4-6-2
80in
27x28in
205psi
101t
153t
70sq.ft.
4041sq.ft.
943sq.ft.
Streamlined
K5
4-6-2
80in
27x30in
250psi
94t
145t
70sq.ft.
4285sq.ft.
1634sq.ft.
K28s
4-6-2
80in
24x26in
205psi
83t
124t
62sq.ft.
3593sq.ft.
748sq.ft.
L1
2-8-2
62in
27x30in
205psi
109t
146t
70sq.ft.
5766sq.ft.
none
L1s
2-8-2
62in
27x30in
205psi
108t
145t
70sq.ft.
4020sq.ft.
1073sq.ft.
L1s
2-8-2
62in
27x30in
205psi
109t
145t
70sq.ft.
4041sq.ft.
943sq.ft.
1928
L2s
2-8-2
63in
26x30in
200psi
100t
132t
67sq.ft.
3777sq.ft.
882sq.ft.
USRA

light
M1
4-8-2
72in
27x30in
250psi
129t
174t
70sq.ft.
4904sq.ft.
1800sq.ft.
4700
M1a/M1b
4-8-2
72in
27x30in
250psi
121t
175t
70sq.ft.
4698sq.ft.
1634sq.ft.
N1s
2-10-2
62in
30x32in
205psi
159t
198t
80sq.ft.
4725sq.ft.
1618sq.ft.
N2s
2-10-2
63in
30x32in
190psi
133t
172t
88sq.ft.
5153sq.ft.
1208sq.ft.
USRA

heavy
Q1
4-6-4-4
77in
23x28:19½x26in
300psi
161t
276t
122sq.ft.
6725sq.ft.
2930sq.ft.
Simple
Q2
4-4-6-4
69in
19¾x28:23¾x29in
300psi
178t
281t
122sq.ft.
6725sq.ft.
2930sq.ft.
Simple
S1
6-4-4-6
84in
22x26in(4)
300psi
126t
272t
132sq.ft.
5661sq.ft.
2085sq.ft.
Streamlined
S2
6-8-6
68in
6900hp turbine
310psi
116t
260t
120sq.ft.
5002sq.ft.
2050sq.ft.
T1
4-4-4-4
80in
18¾x26in(4)
300psi
127t
228t
92sq.ft.
4209sq.ft.
1430sq.ft.
Streamlined