CONRAIL HISTORY

The
Consolidated Rail Corporation
,
commonly known as
CONRAIL
, began operations in April, 1 1976 and was the primary Class I railroad in the north-east of the USA, until the 1998.
Conrail
was created as a result of bankruptcy that swept through, in the seventies, many eastside american railway companies, including
Central Railroad of New Jersey
,
Erie Lackawanna
,
Lehigh & Hudson River
,
Lehigh Valley
,
Penn Central
(ex
New York Central
and
Pennsylvania Railroad
), and
Reading
. This huge new Class 1 railroad operated 17.000 route miles, had 95.000 employees and owned 5.000 diesel and electric locomotives and 162.000 freight cars.
In the early 1970s, one by one, these six railroads entered bankruptcy. Although there were many reasons for the economic difficulties they faced, chief among them was competition from trucks, subsidized by the federally-built Interstate highway system, and an archaic system of economic regulation which prevented railroads from responding to the needs of the market. As freight revenues declined, railroads deferred maintenance, allowing tracks and equipment to fall into poor condition, and as service levels deteriorated, more business went to trucks. Requirements to run money-losing passenger service added to the rails decline.
The federal government, recognizing the national economic importance of the six railroads, responded by creating
Conrail
and appropriating the funds needed to rebuild tracks, locomotives and freight cars. While
Conrail
succeeded in rebuilding the railroad, the problem of severe economic regulation remained. With the passage of the Staggers Act in 1980, many of these constraints were loosened, giving railroads more freedom to compete with trucks. Later, other legislation transferred the burden of operating money-losing commuter rail service from
Conrail
to state agencies. In the 1970s, Congress created Amtrak to take over intercity passenger service from the nation's freight railroads.
By 1981 Conrail began its financial turnaround. After June 1981, Conrail would no longer require federal investment, and finished the year with the first profit in its history. With Conrail continuing to succeed in providing high quality service for its freight customers and improving its financial outlook, the federal government sold its ownership interest in Conrail through what at the time was the largest initial public stock offering in the nation's history. This March 26, 1987 transaction, with added cash payments from Conrail to the U.S. Treasury, produced about $1.9 billion for the taxpayers and returned the Northeast-Midwest rail freight system to the private sector as a for-profit corporation, as Congress had envisioned when it created Conrail as Consolidated Rail Corporation.
In the spring of 1997,
Norfolk Southern Corporation
and
CSX Corporation
agreed to acquire
Conrail
through a joint stock purchase. The Surface Transportation Board officially approved the acquisition and restructuring of
Conrail
on July 23, 1998. The approved restructuring plan transformed
CR
into a switching and terminal railroad that operates on behalf of its owners, Norfolk Southern and CSX, in the Shared Assets Areas of Northern New Jersey, Southern New Jersey/Philadelphia, and Detroit.
Conrail
started its life with colorful mix of interesting equipment. In its early days,
CR
's equipment was a mismash of aging classic locomotives and colorful (in most cases) paint schemes. This stuff was full of character, from the variety of paint out styles performed to the ways that things showed up in places you'd never seen them before, like EL U-Boats and CNJ SD35s on Horseshoe Curve. This era was a modelers and railfan's bonanza, despite the sadness at seeing once great railroads sporting a new image.
Conrail
utilized modern and innovated cars and locomotives. As it became profitable,
Conrail
had purchased some unique locomotives and cars that it believed were the way of the future. These include the legendary behemoth SD80MACs and the unique Coilshield cars.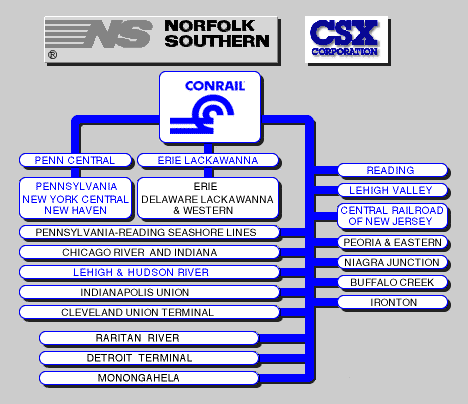 ::::::::::::::::::::::::::::::::::::::::::::::::::::::::::::::::::::::::::::::::::::::::::::::::::::::::::::::::::::::::::::::::::::::::::::::::::::
CONRAIL MAPS
(
Click on thumb below to large format
)
::::::::::::::::::::::::::::::::::::::::::::::::::::::::::::::::::::::::::::::::::::::::::::::::::::::::::::::::::::::::::::::::::::::::::::::::::::

CONRAIL 1976-1980 MOTIVE POWER ROSTER AND CABOOSE IMAGES.
Conrail
inherited thousands of diesel locomotives by the companies merged into the new railway reality (in total 4,891 units). Coming from
Penn Central
,
Lehigh Valley
,
Reading
,
Central Railroad of New Jersey, Erie Lackawanna
and other smaller railroads companies, many types of diesel locomotives of all major US builders have joined
Conrail
: Electro Motive Division, General Electric, ALCO and Baldwin. The new huge fleet of locomotives was formed of countless models and variants (88 different models). Each engine carried its original livery adopted by the previous company. In addition, all railroads used different colors and shades to represent the various periods of duty and the production lots of delivery. So, an heterogeneous multicolor fleet was created, which took several years before being rationalized, updated and colored with the "blue"
Conrail
.
Obviously, the heterogeneous and colorful fleet could only be particularly appreciated by railfans, enthusiasts and train modelers. The model railroading market offers a huge variety of items, in all scales. It is therefore possible to best represent the early Conrail era in every setting.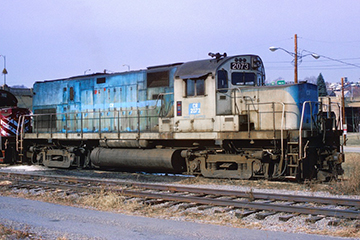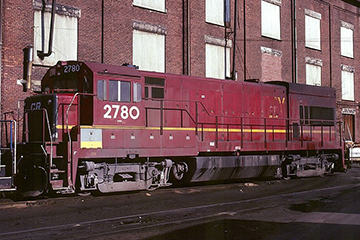 (Left) Alco C-420 CR-2073 ex-L&HR-23 :: (Right) GE U23b CR-2780 ex-LV-504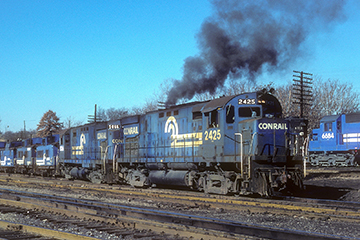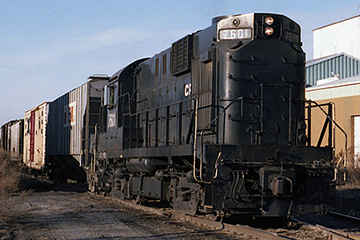 (Left) Alco C-425 CR-2425 ex-PC-2425 :: (Right) Alco RS-11 CR-7601 ex-PC-7601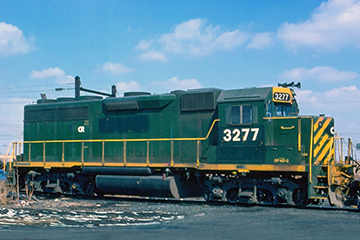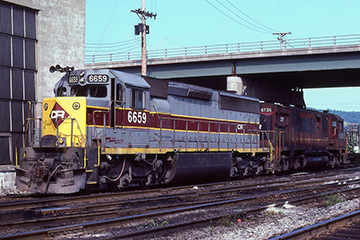 (Left) EMD GP40-2 Phase I CR-3277 ex RDG-3673 :: (Right) EMD SD45-2 CR-6659 ex EL-3674 and Alco C-628 CR-6735 ex LV-639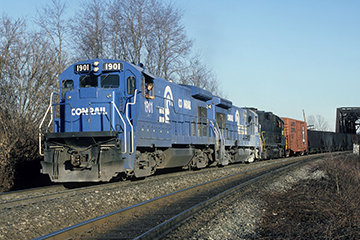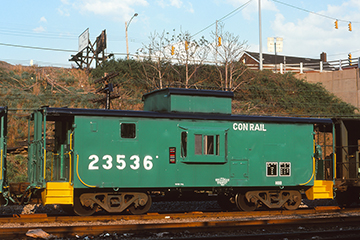 (Left) GE B23-7 CR-1901 built new 1978 :: (Right) N8b caboose CR-23536 ex New Haven RR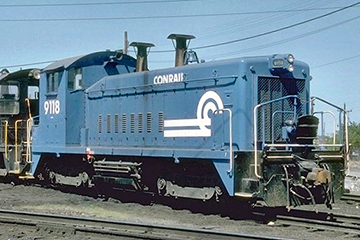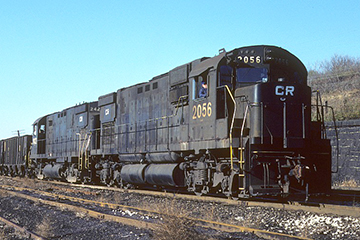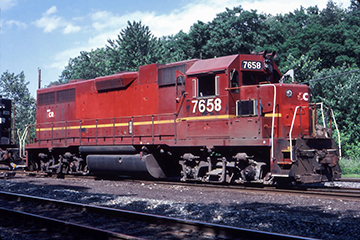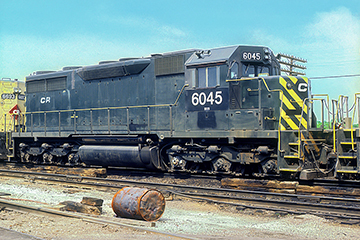 (Left) EMD GP38AC CR-7658 ex LV-312 :: (Right) EMD SD35 CR-6045 ex CNJ-2506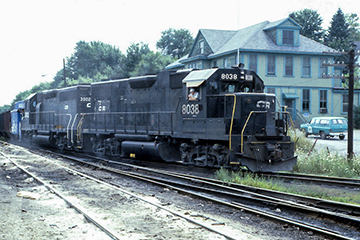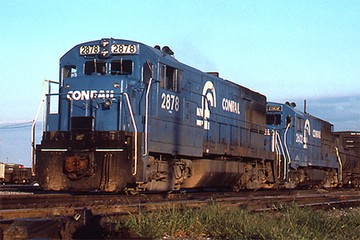 (Left) EMD GP38-2 CR-8038 ex PC-8038 :: (Right) GE U30b CR-2878 ex PC-2878 and GE U25b CR-2602 ex PC-2602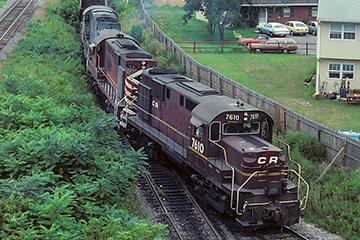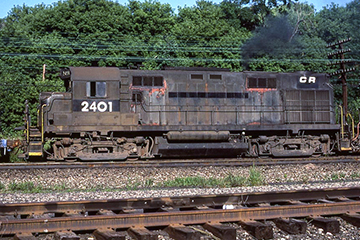 (Left) Alco RS-11 "Low nose" CR-7610 ex LV-401 :: (Right) Alco RS-27 CR-2401 ex PC-2401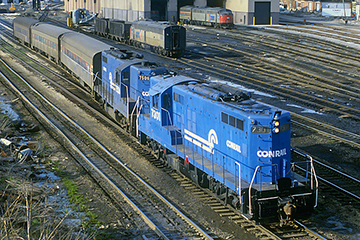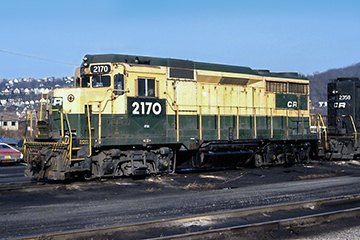 (Left) EMD GP9 CR-7301 ex PC-7301 and CR-7506 ex PC-7506 :: (Right) EMD GP30 CR-2170 ex RDG-3602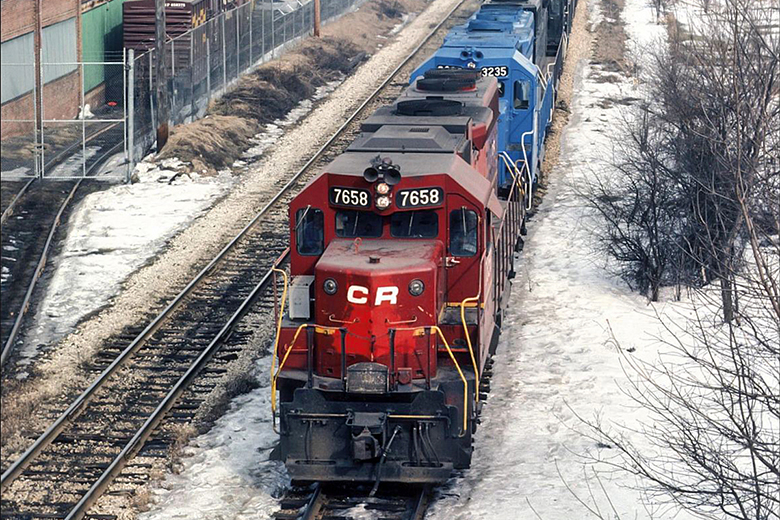 EMD GP38AC CR-7658 former Lehigh Valley #312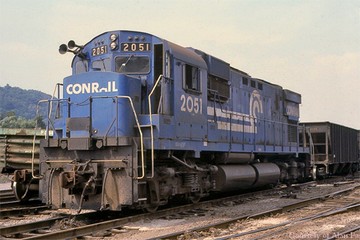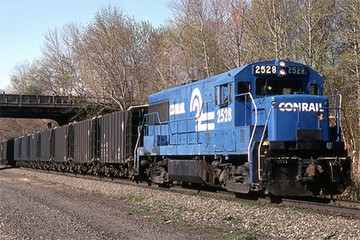 (Left) Alco C-430 CR-2051 ex PC-2051 :: (Right) GE U25b CR-2528 ex PC-2528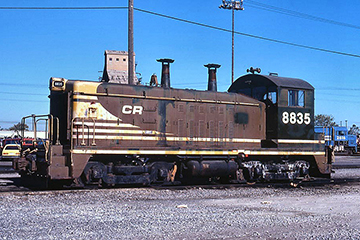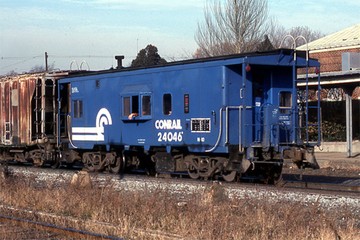 (Left) EMD SW7 CR-8835 ex CR&I-8835 :: (Right) N10 class caboose CR-24046 ex PC-24046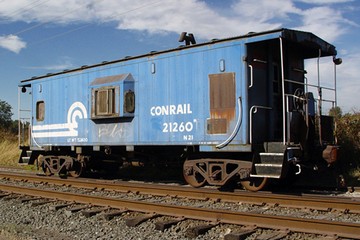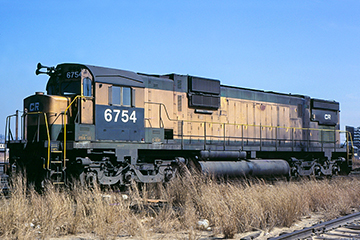 (Left) N21 class caboose CR-21260 FGE built :: (Right) Alco C-630 CR-6754 ex RDG-5301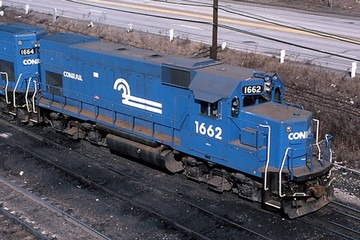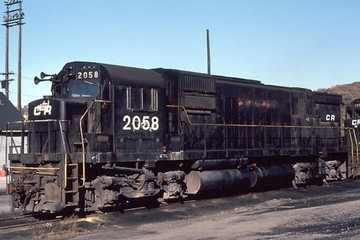 (Left) EMD GP15-1 CR-1662 :: (Right) Alco C-430 CR-2058 ex PC-2058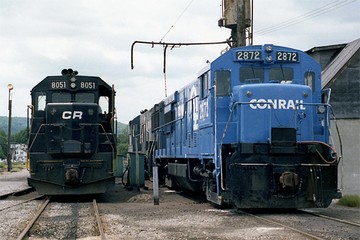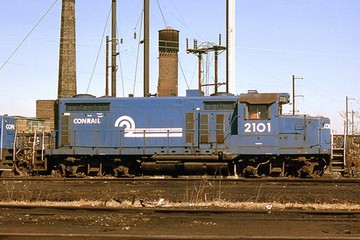 (Left) EMD GP38-2 CR-8051 ex PC-8051 and GE U30b CR-2872 ex PC-2872 :: (Right) EMD GP20 CR-2101 ex PC-2101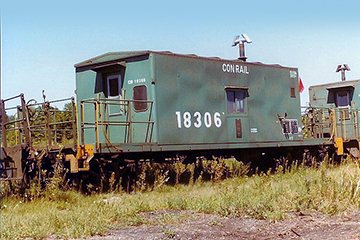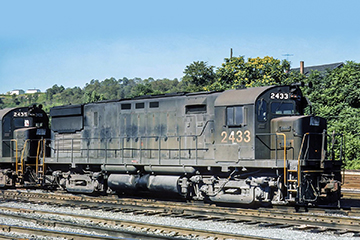 (Left) N9 class transfer-caboose CR-18306 former PC :: (Right) Alco C-425 CR-2433 ex PC-2433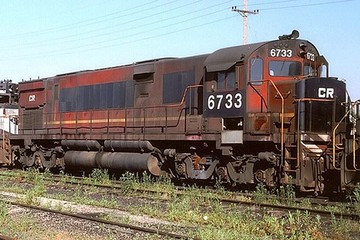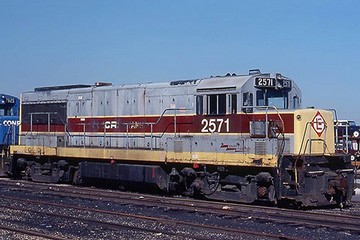 (Left) Alco C-628 CR-6733 ex LV-637 :: (Right) GE U25b CR-2571 ex EL-2502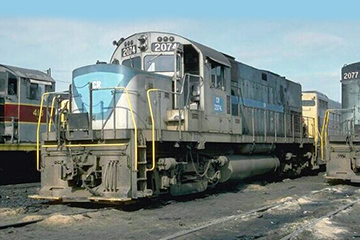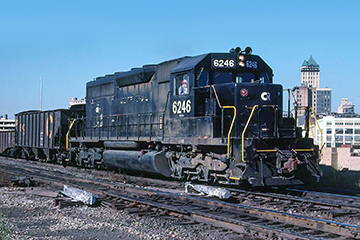 (Left) Alco C-420 CR-2074 ex L&HR-24 :: (Right) EMD SD40 CR-6246 ex PC-6246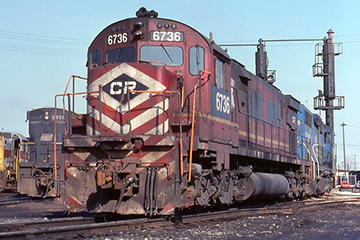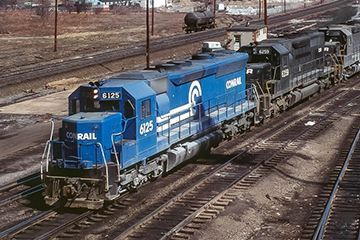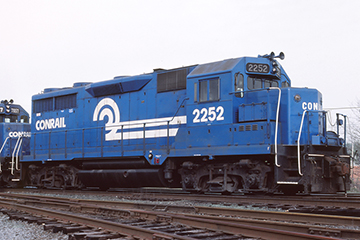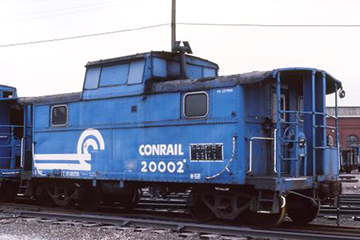 (Left) EMD GP35 CR-2252 ex PC-2252 :: (Right) N5b class caboose CR-20002 ex PC-PRR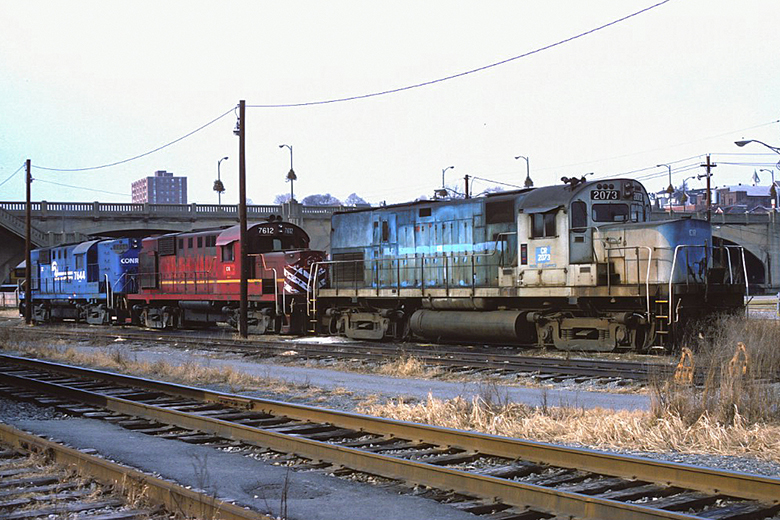 (From left) Alco RS-11 CR-7644, Alco RS-11 "Low nose" CR-7612, Alco C-420 CR-2073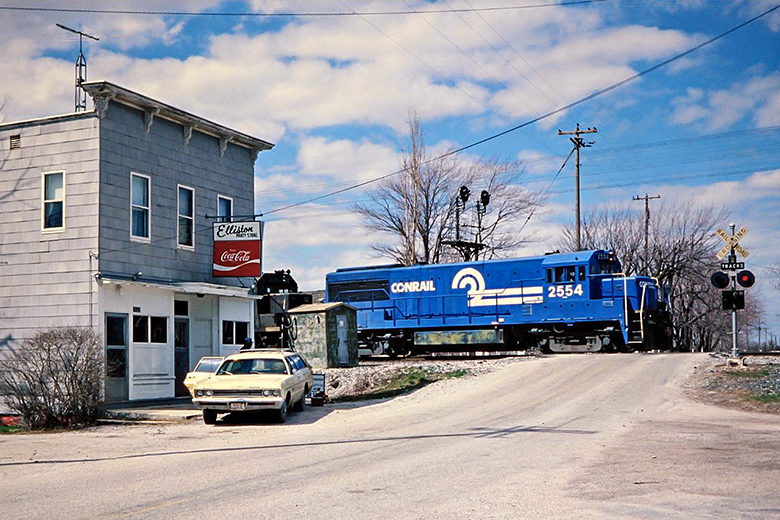 GE U25b CR-2554 former PC-2554 (copyright John F. Bjorklund -
Center for Railroad Photography and Art)
All images showed here above are taken from the web and copyrighted. All rights reserved.
(Sources: Railpictures.net, RRpicturearchives.net, Conrailphotos.thecrhs.org, Conrail Cyclopedia)
::::::::::::::::::::::::::::::::::::::::::::::::::::::::::::::::::::::::::::::::::::::::::::::::::::::::::::::::::::::::::::::::::::::::::::::::::::

- CONRAIL LOCOMOTIVE ROSTER 1976
(courtesy of Conrail-Cyclopedia website)
click here
...