From BLI, a new run of the K4s steam locomotive with the new Paragon 3 "Rolling Thunder" digital sound decoder. Many number roads are available, in pre-war and post-war configurations.
TANGENT SCALE > Pennsylvania Railroad and Conrail X58 insulated boxcars


PRR "Original 1965 X58″ Insulated w/ DFB in the attractive "PRR freight car red" scheme wearing yellow "Insulated," "DFB," and "Cushioned Car" stencils. Like PRR paint practices, this car has an unpainted galvanized roof and running board, except for the ends that have the characteristic paint spray line as seen in overhead photos of these cars when fresh. Our first run of PRR painted cars has a keystone underframe and represents production from 11-65. These classics are available in six road numbers.
See
TANGENT site
for further informations.

ATHEARN GENESIS > GP40-2 diesel locomotive

(2015
)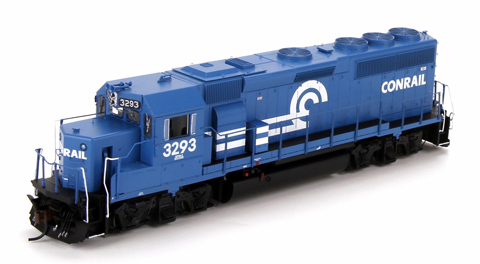 Athearn new model EMD GP40-2 is available in many liveries, for Standard DC or DCC Tsunami sounds version.
Features:
Walkway tread
Fine-scale handrails for scale appearance
Factory applied wire grab irons
Windshield wipers
See through cab windows
Cab interior
Sliding side cab windows
Metal lift rings
Fully-assembled and ready-to-run
DCC-ready features Quick Plug plug-and-play technology with both 8- and 9-pin connector
Scaled from prototype resources including drawings, photographs, and more
Accurately painted and printed paint schemes
Body mounted McHenry operating scale knuckle couplers
Genesis driveline with 5-pole skew wound motor, precision machined flywheels, and multi-link drivetrain for trouble free operation
All-wheel drive with precision gears for smooth and quiet operation
All-wheel electrical pickup provides reliable current flow
Wheels with RP25 contours operate on Code 70, 75, 83, and 100 rail
Incandescent bulbs for realistic appearance
Bi-directional constant lighting so headlight brightness remains constant
Heavy die-cast frame for greater traction and more pulling power
Packaging securely holds for the model for safe storage
Minimum radius: 18"

Sound equipped models also feature:

Onboard DCC decoder with SoundTraxx Tsunami decoder
Sound units operate in both DC and DCC
Some functions are limited in DC
Engine, horn, and bell sounds work in DC.

BROADWAY LIMITED IMPORT > Pennsylvania Railroad H10 2-8-0 STEAM LOCOMOTIVE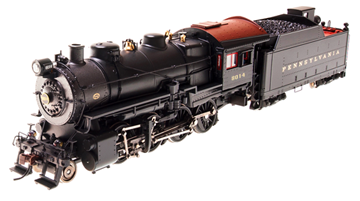 BLI produced two types of PRR's 2-8-0 H10 class steam locomotive with its Paragon 2 sounds decoder. The first model is the "west tender" type (available from the latest 2014 months), the second model announced is about the "east line" tender type (on sale in early 2015).
For all infos and more details, see the
BLI site
.

BOWSER EXECUTIVE LINE RTR > N8 Caboose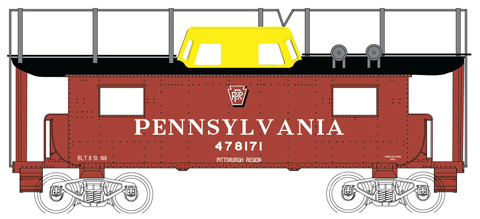 Bowser has announced an "Executive Line" ready-to-run version of their PRR class N8 cabin car (caboose). Features include window glass, separate grab railing, metal wheels, and where indicated Train Phone antenna (designed using the PRR drawings).
Available with Pennsylvania Railroad livery (Pittsburgh Region and other assignments) and Conrail, Penn Central and Illinois Central colors.
For further informations, see the Bowser website page
here
.

ATLAS MASTER LINE > Pennsylvania Railroad ALCO S2 Diesel locomotive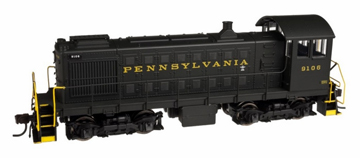 Built by the American Locomotive Company (Alco) the low-hood S-2 was introduced in 1940 to replace Alco's earlier high-hood switchers. The 1000 horsepower S-2 was a turbocharged version of the S-1. There were 1,502 S-2s sold to North American Railroads. The versatility of the S-2s was evidenced by their service on class 1 shortline and industrial railroads. Atlas' version is back in service, with new tooling, as well as a sound-equipped version for modeler enjoyment.
Features:
Redesigned model with all new tooling
NMRA 8-Pin Socket for DCC (Silver Series Model)
Redesigned & retooled hood, cab, and chassis
The first plastic HO-scale model of an S-2 Locomotive to include accurate body paneldetails
Option for horizontal or vertical radiator shutters
Separately-applied grab irons, coupler cut levers, air hoses, piping, etc.
Redesigned truck frames with separately applied detail
Directional LED lighting (includes cab rear headlight)
Die-cast chassis for improved pulling performance
Chassis retooled for optional DCC/sound
5-pole skewed armature motor for reliable operation
Dual-flywheels for maximum performance at all speeds
Factory-equipped with AccuMate knuckle couplers
Exceptional painting and printing.
Engine available for many american railroads.
See further details oo
ATLAS website
.